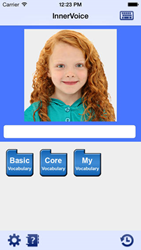 Washington, DC (PRWEB) October 22, 2014
"InnerVoice" was featured on NewsWatch as part of its monthly HealthWatch, which features the latest medical products and services available to consumers. Susan Tropeano, a health expert and host of NewsWatch, conducted the app review and shared with viewers how it allows users to personalize their mapping experience.
The ability to communicate is a fundamental concept that many take for granted. Sadly, there are millions of people that cannot properly express themselves. Many suffer from autism, others from ALS, and others from strokes or other afflictions. People that have trouble communicating, give an app called InnerVoice a try.
InnerVoice was the recipient of the 2013 Mensa Education & Research Foundation Intellectual Benefit to Society Award, and it's a medical grade app that was created by two speech pathologists. The app, which is fantastic for people within the Autism Spectrum, has functional and educational purposes.
Functionally, it allows someone with speech issues to complete tasks that require communication. The user can select words and phrases that the on-screen person will say; perhaps, to order something or ask for help. Users can even change the image to be their face.
Educationally, people on the autism spectrum can learn communication skills by watching videos of themselves successfully performing activities: this is called video self-modeling. InnerVoice teaches communication skills through video self-modeling, which can demonstrate how non-verbal children look and sound when they speak.
It's a fantastic app that's available for iOS devices for a modest price of $19.99. Tto download it, head to the appstore and search "InnerVoice" or visit http://www.InnerVoiceApp.com today.
About NewsWatch
NewsWatch is a weekly 30-minute consumer oriented television show that airs on the History Channel, FYI Network, and ION Network. NewsWatch regularly features top technology products and services, mobile applications for iOS, Android, and Windows devices, unique and beautiful travel destinations around the world, health and medical tips, and entertainment interviews on the show. NewsWatch airs on the History Channel at 6:00 – 6:30 AM ET/PT and on the FYI Network from 7:00 – 7:30 AM ET.
NewsWatch is located in the greater Washington, DC area and has been on air for over 25 years. For more information or to watch the most recent episode, visit http://newswatchtv.com.