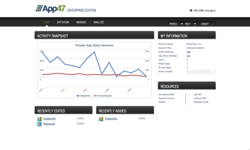 "...we continue to pay close attention to companies like App47, which are building practical answers to the complexity of mobile application management..."
Reston, VA (PRWEB) April 12, 2012
App47, a Northern Virginia-based provider of advanced enterprise mobile application management services, has today released a new iteration of its mobile application lifecycle management platform. According to company leadership, it features key enhancements that address pressing enterprise mobility needs, and an improved UI to provide a level of purchased-app control and oversight demanded by more and more large organizations.
"The latest version of our enterprise mobile application management program features some welcome UX refinements made in response to user feedback, but the major change is a previously unavailable ability to expedite application management and distribution in a single transaction," said App47 founder and CEO Chris Schroeder.
As explained by Schroeder, until recently, organizations had to manage mobile app distribution to their workforce on essentially a point-to-point level. Management would purchase an app, walk the entire workforce through download and setup, and then try to determine who was using the app. That approach, he noted, was inefficient and time-consuming.
"You can buy 50 copies of an app via Apple's Volume Purchasing Program (VPP), for example," Schroeder said, "and Apple will send you 50 redemption codes on a spreadsheet. You then email each code, one at a time, to a designated employee for redemption. The onus for deployment is on them, which makes the process cumbersome. After factoring in time spent managing organizational distribution, you might be paying, say, $12 for a three-dollar app."
Speaking to the significance of App47's VPP integration, Advantix Solutions Group CTO Josh Lipton elaborated on Schroeder's point. He noted that when selecting a solution for mobile application management (MAM), "it is absolutely essential that you not overlook the responsibility to effectively manage purchasing of premium business apps. By integrating Apple's Volume Purchasing Program (VPP) into their solution, App47 has created a powerful yet simple way for organizations to manage this important aspect of enterprise mobility."
Detailing how App47 has simplified tasks such as LDAP/AD integration and VPP distribution, Schroeder noted that Apple spreadsheets can now be imported right into the App47 app management platform, and redemption codes, as well as assigned/unassigned status are all visible on an intuitively navigable dashboard. Distribution, whether to individual users or groups, is dramatically accelerated. He also noted that the improved App47 platform allows an enterprise to make large-scale multi-app buys with a single purchasing order or transaction -- another time and expense-saving advantage.
"As we observe the fast changing landscape of mobile lifecycle management, we continue to pay close attention to companies like App47, which are building practical answers to the complexity of mobile application management," concluded Lipton.
App47 specializes in the enterprise mobile application management (MAM) lifecycle, from deployment, through management, to performance analytics and ROI while ensuring enterprise and user data privacy, and optimized mobile user experience. App47 offers free versions of its enterprise and developer edition, and allows users to automate mobile application deployment by creating their own self-service enterprise app stores. To learn more, visit http://www.app47.com.