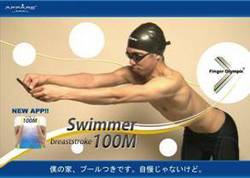 Something exciting, something one enjoys
Tokyo, Japan (PRWEB) April 9, 2009
SolidAlliance Corporation (head office in Chuo-ku, Tokyo), released its second iPhone application, "Finger Olympic Swimmer 100M", through APPARE JAPAN, a jointly developed label (originated from a Japanese style pub in Tokyo) with Pro Mobile Co., Ltd. (head office in Chiyoda-ku, Tokyo) (available at AppStore).
The "appare" (splendid) graduation season has come, and APPARE JAPAN has embarked on a new journey of its own, releasing this new iPhone application.
"Finger Olympic Swimmer 100M" is a game in which the user competes in a 100-meter breaststroke race on a global-scale, using thumbs to swim. To play, user places both thumbs on the diving platform shown on the screen. Then, a dive into the water is simulated by pushing both arms out as the starting signal goes off. After jumping into the water, the user swims by using sliding thumb movements rhythmically on the screen. The simple repetition of these movements keeps the Olympic medalist swimming towards the goal.
APPARE JAPAN cautions that those playing this game in public may look ridiculous, and draw attention from those around them - but the fun and satisfaction in setting a new world record will be well worth the embarrassment.
A free training version will also be released to celebrate the launch of this second application from APPARE JAPAN. (In the training version, you can swim up to 50 meters without the Olympic mode.)
In addition, APPARE JAPAN is offering a limited-time half price sale on all of its paid applications. The price will be 115 yen per application.
Details of application
You Tube
About APPARE JAPAN
"Something exciting, something one enjoys" - the presidents of both companies believe this is more important than anything else. Conceiving the idea that iPhone can offer something more exciting, they happened to meet at a Japanese style pub and hit it off. To deliver something much more interesting from Japan (mainly from a pub), APPARE JAPAN, a new label specialized for iPhone applications, has been launched. It aspires to become a happy label which would make people around the world say "splendid" as the word "APPARE" literally means.
(http://apparejapan.jp/)
About SolidAlliance
SolidAlliance Corporation (head office in Chuo-ku, Tokyo) cooperates with domestic and international manufacturers and introduces unique and superior products around the world. It also develops and sells new products based on its own original concept. In particular, "i-Duck," a duck-shaped USB memory, "SushiDisk," a sushi-shaped USB memory, and "Baketan strap," a ghost detector, have become worldwide hot sellers.
(http://www.solidalliance.com)
About Pro Mobile
Looking at "persons" on the other side of mobile, Pro Mobile Co., Ltd. (head office in Chiyoda-ku, Tokyo) provides consistent solutions from planning to operation and maintenance. It is a group of engineers who can meet a wide variety of customers' demands flexibly, achieving valuable services as professionals.
(http://www.promob.jp)
The names of actual products mentioned herein are the trademarks or registered trademarks of their respective owners.
Contact information:
SolidAlliance Corporation
Public Relations Department
Phone: (03)5652-1251
Fax: (03)5652-1252
E-mail: koho(at)solidalliance(dot)com
http://www.solidalliance.com
# # #