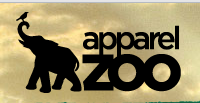 Los Angeles, CA (PRWEB) October 18, 2012
The popularity of the street wear clothing trend continues to skyrocket. Now, people are flocking to this unique look in an effort to express their personal taste. One retailer on the edge of this trend is Apparel Zoo. The Apparel Zoo online store allows customers a sales force free shopping experience so they can find the latest designs by their favorite celebrities that match their personal taste without the discomfort of being approached by store staff. Now, LAD Solutions, a well-respected online marketing company based in Los Angeles, has partnered with Apparel Zoo to help promote their new arrivals.
Celebrity clothing lines are extremely popular as they symbolize the biggest fashion trends among their fans. One of the new arrivals at the Apparel Zoo store is from Lil Wayne with his Truckfit brand. Lil Wayne has long been an influencer in the music and skate scene alike. Now, his fashion sense has permeated the clothing world and he is offering his unique style to his fans. Apparel Zoo has recently started providing this line to their customers through their online boutique.
Another familiar style comes from Neff's Neffmau5. This distinctive design is affiliated with the popular Deadmau5. It takes the laid back Southern California culture and combines it with the fashion of the skate, snow and surf design making it versatile but also very unique. This brand is supported by some big name athletes in the snow, skating and surfing sports making it extremely popular among people who are passionate about these activities.
Rich Scampi Clothing, featuring cartoon images of favorite celebrities such as Waka Flocka, Jay-Z, Eminem, Nicki Minaj and Lil Wayne have also arrived at the Apparel Zoo online shop. These designs allow people to support their favorite artists in attire that hold street credibility and shows off their individual tastes.
The final new arrival in the Apparel Zoo online shop is from the Filthy Dripped Clothing line. This line was inspired by the Rolling Stones and uses Mickey Mouse hands to create unique designs that are slightly provocative and highly desired by people with a passion for the street wear style.
With each of these new arrivals, Apparel Zoo has teamed up with LAD Solutions to help promote them as products available in their online boutique. Now, LAD Solutions is helping Apparel Zoo increase their online presence by promoting these new street wear designs as this niche market continues to expand.
About Apparel Zoo: Apparel Zoo is an online clothing boutique focused on providing street wear to a quickly growing niche market. Founded in 2011 in the fashionable district of downtown Los Angeles, Apparel Zoo designed a company with a different approach to the sale of clothing and accessories. With the specialized Apparel Zoo website, customers are able to browse a variety of styles from well-known brands and celebrity endorsed lines for styles that match their individual tastes. Instead of using high pressure sales tactics, Apparel Zoo prides itself on letting individuals find their unique styles to match their personal tastes. For more information, visit http://www.ApparelZoo.com.