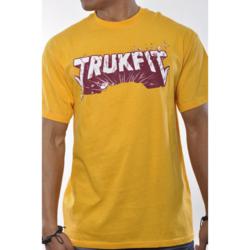 FREE U.S. Shipping On All Orders Over $50
Los Angeles, CA (PRWEB) May 22, 2013
Apparel Zoo has recently made the announcement that they have added Men's Trukfit Clothing to the list of products available on their website. LAD Solutions will be handling the promotion in order to help the company increase the sales of these products as well as notify customers of their availability.
Men's Trukfit Clothing is a brand of clothing created by rapper Lil Wayne and features a strong hip hop/urbanwear theme. The clothing items are mainly made of up skatewear items including tees and caps and many of the items that appear on the Apparel Zoo website include the signature graphic of the clothing line which is "Tommy Trukfit." Some of the items simply incorporate the brand name into the design while others only have the character's face on them. The items come in a variety of styles ranging from the simple tee to the pullover sweater and are all casual in design.
Price points for these items are label in the reasonable category with the lowest end items priced at around $20. However none of the items currently listed on the site exceed $200. The company has not mentioned how long these items will be available for sale but says that the brand is a relative newcomer in the LA fashion scene and that it has gained a lot of interest from customers.
Apparel Zoo is known for launching trendy urban clothing for men and women on its store and is always looking to stay relevant and on the cutting edge of urban fashion trends. ApparelZoo.com is how the company makes its items available to its customers and they offer a variety of shipping options for both domestic USA customers and international customers. Apparel Zoo remains focused on catering to the fashion needs of trend Southern California shoppers and their aim is to promote only brands that are popular in that area. The company has also named price as part of their strategy in an effort to offer items that are affordable in nature to their customers.
Apparel Zoo has not yet announced which brands will be next to be launched on their website but has recommended that consumers check back often in order to find the latest updates. Men's Trukfit Clothing is currently available on their site and ready for purchase.
About Apparel Zoo: Apparel Zoo, based in Los Angeles, California, is a leader in urban fashion trends specific to the West Coast. The company prides itself in providing reasonable pricing as well as carrying a variety of up and coming brand as well as well-known brands. More information can be found about the products that they sell on their website at ApparelZoo.com.