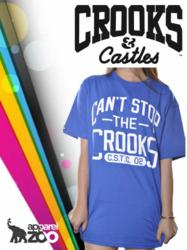 Los Angeles, CA (PRWEB) June 23, 2013
Apparel Zoo has just announced that they are offering Crooks and Castles streetwear apparel on their online web store at ApparelZoo.com. LAD Solutions has been hired in order to get the word out about this update in order to attract more buyers to these items.
Crooks and Castles is a brand that was created by Dennis Calvero and Robert Panlilo back in 2002 in order to bring a different style to men's wear and became quite a popular brand in the realm of men's hip hop clothing. Apparel Zoo is currently featuring a variety of snapback hats, tank tops and tees as well as shorts. While some items feature the Crooks and Castles slogan, other items simply display the messages that the brand is trying to promote as part of the feel of their clothing.
The Crooks and Castles items available on the site are currently items for men however Apparel Zoo has not yet stated if they will be bringing in additional brands to add even more items for women to their site. Apparel Zoo currently features a number of urban clothing brands for both men and women on their site.
The pricing of Crooks and Castles wear available on their site are all under $100 with pricing starting at about $20. The company has not yet provided any information as to whether they will be adding additional Crooks and Castles brand items for sale and has not yet indicated how long the brand's items will be available on the ApparelZoo.com website.
Apparel Zoo has become one of the top brands for trendy streetwear apparel and is always making updates to its product lines in order remain at the top of trends in urban fashion. The company offers a variety of options for shipping merchandise to both domestic USA locations as well as locations outside the United States. The company places its main focus on catering to the local urban fashion scene in California.
For the latest updates about the products being offered by Apparel Zoo, the company has requested that customers check the site regularly for updates as well as contact the company directly if there are any questions about the availability of items. As of today, Crooks and Castles items are currently available for purchase in the online store.
About Apparel Zoo: Apparel Zoo (website: ApparelZoo.com) is based in Los Angeles, California and the company has made a name for itself as a leader in trendy urban fashion. The company takes pride in following the local California urban fashion trends to ensure that its customers are always on the cutting edge of what is popular in this market. For additional information about the products and brands offered by the company, visit their website at ApparelZoo.com.