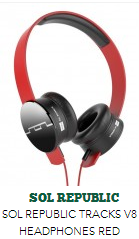 Los Angeles, CA (PRWEB) February 21, 2013
Apparel Zoo has added to their range the SOL REPUBLIC line of customizable and interchangeable headphones, which includes a selection of seven premium headsets ranging in price from $99.99 to $179.99. The headphones include the Tracks V8, HD V10 and Tracks Ultra V12 Sound Engines, which all deliver premium sound clarity so users can feel the power of the instruments, vocals and bass in their music. In addition to the headphones, the site offers various headphone accessories such as the Track Headbands and ClearTalk Cables that come in a wide array of contemporary colors. Urban fashion enthusiasts can mix and match the colors of the Sound Track headbands and cables to create their own individual and unique looks. SOL REPUBLIC has established a reputation for delivering innovation in sound, style and durability, offering the best headphones that are affordable for virtually all music fans.
Headphones have become an interesting addition to the world of urban fashion, and SOL REPUBLIC has recognized the most important aspects of this trend with their innovative line of headphones delivering premium sound, unique style and low prices. In addition to major advancements in sound quality, wearing the best headphones as an accessory has recently become the latest way for urban consumers to make a strong fashion statement. Headphones are often worn even when not in use, and are an important part of a fully accessorized urban outfit. Urban fashion and music have gone hand-in-hand since the style's origins, so the addition of headphones as a wardrobe accessory seems like a natural evolution of the genre.
Apparel Zoo's offering of the SOL REPUBLIC line is building upon its brand promise to provide urban fashion enthusiasts with affordable popular clothing and accessories. SOL REPUBLIC is a natural partner for Apparel Zoo, with their line of nearly indestructible headphones that deliver fashion-forward style, and the leading high-definition sound design. Apparel Zoo shoppers can easily customize and accessorize their urban fashions with the best headphones from SOL REPUBLIC.
Apparel Zoo is committed to staying ahead of the latest urban trends, and providing customers with a large selection of clothing and accessories that allows them to express their own unique individual style. The company recognizes that urban clothing styles and popularity can vary greatly on a local, regional and national basis. To meet the discriminating and varying tastes of today's youth, Apparel Zoo features both well-known brands from around the world as well as some of the United States' new, up and coming brands. Apparel Zoo has a wide selection of clothing to reflect the lifestyle of any locale with its diverse local clothing brands. The ability to meet the styles and tastes of the varying style niches is what sets Apparel Zoo apart from other urban online retailers. Apparel Zoo and its complete line of products can be viewed online at the company's website. Customers who find premium fashion headphones and other products at better prices are encouraged to contact the company.
About Apparel Zoo:
Founded in 2011 in Los Angeles' downtown fashion district, Apparel Zoo assists customers by providing the latest urban clothing trends at an affordable price online. The company has a unique approach in that it does not attempt to tell customers what style is best, but instead allows them to make their own style decisions. It recognizes that different styles are popular in different locations. Men and women interested in urban clothing should visit the company's website to view their product offering.