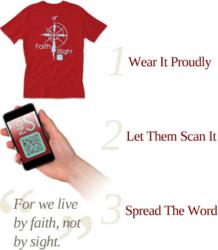 Our goal was to design Christian shirts that anyone could wear anywhere, not only at church
Pembroke Pines, FL (PRWEB) May 30, 2012
Pi-e-t (pronounced piety) is a brand new company with a mission of bringing modern and fashion forward designs to the Christian community and general audience.
The company has started with a line of high quality Christian t-shirts that aim to promote teachings from the Bible with the use of embedded codes and mobile technology. Each design showcases a positive message inspired by a passage from the Bible. The passages are encoded and included as part of the design. Igl Dinger, president and designer of the company explains, "our goal was to design Christian shirts that anyone could wear anywhere, not only at church."
With the use of mobile technology, people can scan the codes found in each design and read the entire biblical passage that inspired it. Dinger comments: "it fills me up with joy to see people's faces when they scan the codes and read the passages. Their faces light up with excitement!" Marco de Obaldia, vice-president and designer, adds: "This is only the beginning! We are already planning our next line of Christian apparel and accessories. There is a lot more to come!"
For more information about Pi-e-t visit their website: http://www.pi-e-t.com and social media sites http://www.facebook.com/DecodeTruth, http://www.twitter.com/pi_e_t.
About the Company: Pi-e-t was started in early 2012 with the mission of spreading Christian teachings through modern religious t-shirt designs and technology.