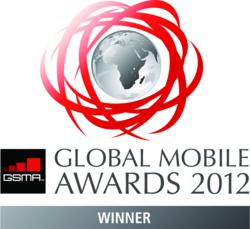 According to the GSMA judges, Titanium is the "quintessential cloud platform..."
GSMA MOBILE WORLD CONGRESS, BARCELONA (PRWEB) February 29, 2012
Appcelerator®, the leading mobile platform company, today announced the GSMA awarded its Appcelerator Titanium™ Mobile Platform an esteemed Global Mobile Award for "Best Cloud-based Technology." The global award recognizes excellence in innovative and smart cloud-based technologies that are significantly changing the mobile landscape. According to the GSMA judges, Titanium is the "quintessential cloud platform," enabling developers and brands to "write [a mobile app] once, deploy many times." The judges also credited how Titanium "drives speed and cost reductions."
Appcelerator is in good company with other 2012 GSMA award winners, which included Apple for iPad 2, Google for Google Maps, Rovio for Angry Birds Rio, Samsung for Galaxy S II, and AT&T for the Garmin GTU 10. In its own category, Appcelerator beat out Brightcove, Netbiscuits, Sierra Wireless, and Peek to earn the distinguished honor of Best Cloud-based Technology.
"The 2012 Global Mobile Awards continue to showcase the greatest, most creative and innovative products and services driving the mobile ecosystem today and into the future. With a record number of high calibre entries this year, it is a significant achievement to have been honoured in today's ceremony," said Michael O'Hara, Chief Marketing Officer, GSMA. "The GSMA congratulates winners and commends all those taking part for raising the benchmark of contributions to mobile communications across the entire industry."
"We are both ecstatic and honored to win the prestigious GSMA Global Mobile Award," said Jeff Haynie, CEO of Appcelerator. "Many thanks go to all of our customers, developers, and employees for their contributions to building a great product and community. As the mobile market continues to evolve and change, Appcelerator will keep pace by innovating new features on Titanium to help developers create and scale great mobile experiences."
According to Gartner, CIOs fully expect to support up to three mobile operating systems this year with 20% of devices being employee-owned. Further, accelerated SaaS adoption in the enterprise is being driven by the ability to integrate business applications on smartphones, tablets and other wireless devices.
Appcelerator's Titanium Platform enables rapid development of cloud-connected mobile apps that combine client-side functionality with third-party APIs and secure data stored in the cloud. Using Appcelerator, enterprises can unleash the potential for highly rich, innovative apps that leverage native device capabilities, value-added services and cloud data to stay ahead of the expectations and requirements for both employees and customers.
About Appcelerator
Appcelerator's Titanium is the leading mobile platform of choice for thousands of companies who are seizing the mobile opportunity. With more than 35,000 applications deployed on 40 million devices, Appcelerator's Titanium Platform leverages over 5,000 mobile device and operating system APIs to create native iOS and Android apps as well as HTML5 mobile web apps. Customers who standardize on the Titanium Platform get to market 70% faster and can quickly optimize business results with analytics–driven insights into user behavior and app performance. The open and fully extensible Titanium Platform makes it easy to integrate data, content and services from a variety of sources into mobile applications to leverage best–of–breed capabilities. Appcelerator Cloud Services (ACS) provides instant social, location, communication and content features for user-centric mobility. ACS is pre-integrated into the Titanium Platform and is also separately available for all mobile developers and publishers. Appcelerator's worldwide ecosystem includes 1.6M developers and hundreds of ISVs and integration partners. Please visit http://www.appcelerator.com.
About the GSMA's Global Mobile Awards
The Global Mobile Awards is the most highly sought after awards in the global communications industry. Established in 1996, the Awards attract entries from across the world and are judged by a panel of independent, highly respected experts. They are presented at the Mobile World Congress, the mobile industry's annual gathering of around 60,000 senior industry leaders, executives, media, analysts and influencers.
Appcelerator is a registered trademark of Appcelerator Inc. Appcelerator Titanium is a trademark of Appcelerator Inc. All other trademarks and copyrights are the property of their respective owners.
# # #
Editor's Note: (Artwork Available Upon Request)
Press Contact:
Carmen Hughes
Ignite Public Relations
carmen@ignitepr.com
Tel: +1.650.227.3280 #101
Cell: 650.576.6444