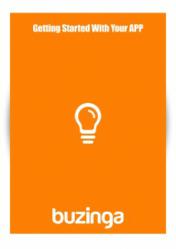 If we educate others, the app industry will continue to thrive, and that's beneficial to everybody
Melbourne, Victoria (PRWEB) June 09, 2013
The vibrant and creative team at Buzinga Apps revealed their most recent project to help beginners with their complimentary app developer resources project. The subscription based program comprises of the most important steps in creating, marketing and monetising apps. Director of Games Development and Marketing, Mr. Logan Merrick remarks, "The world of apps is heating up, but a lot of people are just throwing their ideas at the wind hoping something happens. Our goal is to help others by offering our experience and strategies for free."
Over the past several years, the smart device industry has boomed. The key to its success lies within something called an 'application' or 'app' for short, whereby helpful tools and fun games are accessed with a mere tap of an icon. Because of its relative simplicity, everyone from school kids to experienced programmers are trying to cash in on this hot new market; however, many of those great ideas are being produced with little effect.
Australian-based mobile app development company and industry experts Buzinga Apps have been helping others create, market and monetise their inventions for years now. Already providing video tutorials online, they've now decided "to launch an app development course for our fellow inventors" says Mr. Merrick.
Mr. Merrick goes on to say that the idea behind the app developer resources program is "to put people in control of their project's development, as well as the overall outcome of their app." The program includes a series of eBooks taking readers through the ten most important lessons in creating their app. It's then followed up with an advanced guide to marketing, and finally a strategic look on how to make money from the app itself.
Mr. Merrick explains that these eBooks are "must reads because too many people launch their apps in the app store without any real understanding of what to do because there's a lack of genuine advice from whoever they used to create their idea with." Mr. Merrick further adds that this is "pushing the app failure rate to 68%, and that's a really scary number."
It's this deficiency in accessible and knowledgeable advice from fellow industry experts that has spurred Buzinga App Development into making their vision of helping others a reality, "our app developer resources are there to guide people to making better marketing decisions and show them how to take advantage of today's cutting-edge technology."
Unable to continue watching the app failure rate soar, Buzinga Apps have proactively created and launched their app developer resources program. Their plan is to turn their real world experience into helpful and useful guides for app novices to take their creation from start to finish with every possible chance of success.
Mr. Merrick finishes by saying that he and his colleagues believe "it's not fair to refrain from helping others just because apps are booming in the market right now. If we educate others, the app industry will continue to thrive, and that's beneficial to everybody." To view the contents of Buzinga App Development's free program, simply click here, or to learn more about the company, visit: http://www.buzinga.com.au.
About Buzinga App Development
Based in Melbourne Australia, Buzinga App Development is a dedicated mobile app production house with over 50 years of combined experience working with businesses from around the world. Their team comprises of vibrant and creative people who are passionate about what they do.
Buzinga Apps pride themselves on producing a quality product on-time and on budget, every time. To learn more about Buzinga, visit their About Us page.