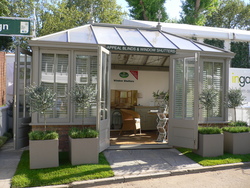 Bristol, UK (PRWEB) July 9, 2010
However it has a slightly different character, with more focus given to environmental issues, growing and cooking, whilst also including inspirational show gardens. This years' show is bigger than ever, with the largest ever dedicated fruit and vegetable marquees and the world's biggest plant-themed fashion catwalk.
The Appeal Group are delighted to be exhibiting their range of window furnishings at this years show on stand C39 (nearest entrance The Thames Entrance) from the 6th to 11th July 2010.
Appeal's Conservatory Blinds
The Appeal Group will be exhibiting their wide range of high-performance design-led conservatory blinds. We believe visitors to our stand will be particularly interested in our Alu-Pleat® and Solar R® blinds due to their ability to reduce energy consumption within a home and our sustainably sourced Original French Pinoleum blinds.
Appeal has pioneered the most heat reflective conservatory blinds available on the market today - the Solar R ® and Alu-Pleat® blind. In the hot summer months, Solar R® and Alu-Pleat® conservatory blinds reflect an astonishing 85% of heat energy back outside, thereby keeping any glass space in your home at a comfortable temperature naturally. During the winter months these blinds help to insulate the room - preventing heat escaping through the glass space thereby reducing fuel bills. These revolutionary blinds are exclusive to The Appeal Group.
Appeal introduced Pinoleum conservatory blinds to the Britain over 20 years ago, and they still prove to the most popular choice among conservatory owners today. Hand crafted from sustainably sourced hardwood, these handsome conservatory blinds are available in a wide range of historic paint colours or can be coloured matched to any colour on provision of paint reference number to suit existing interiors schemes.
Appeal has the widest selection of conservatory blinds in comparison to any other blind company in Britain. The range include: Original French Pinoleum, Solar R®, Alu-Pleat®, Roller, Pleated, Venetian, Honeycomb, Honeycomb Blackout, Reflex and Stria blinds.
Appeal's North American Cedar Wooden Window Shutters
Stylish and versatile, Appeal's fully bespoke North American Cedar Wood Shutters are available in a huge array of shapes - curved, triangle, circles…virtually any shape is possible meaning that all most any window can have an Appeal shutter fitted!
Appeal selected this sustainability sourced premium quality hardwood due to its naturally attractive appearance, lightness and strength. Our range of Cedar Wood shutters has significant benefits when compared with the lower quality alternatives. Once installed Appeal's shutters will help to reduce household bills by keeping the heat outside in the summer, whilst serving to insulate the room during the winter therefore reducing excessive heating demands to the room helping to reduce the carbon footprint of your home. Appeal's North American Cedar Wood Shutters will also provide additional security to a home whilst improving its 'kerb' appeal.
About Appeal Conservatory Blinds
To obtain a free colour brochure and find out more about the products available from Appeal Conservatory Blinds visit http://www.appealblinds.com or freephone 0800 975 5757.
# # #