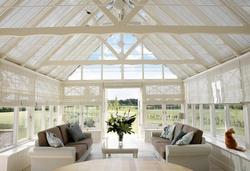 We're really excited about exhibiting at the Ideal Home Show 2010. There's a real buzz around this year's show with the prospect of lots of new events and celebrity appearances
Bristol, UK (PRWEB) March 25, 2010
For over 20 years Appeal have hand crafted and installed beautiful bespoke blinds in thousands of conservatories, orangeries, glazed extensions and garden rooms throughout the UK, Europe and the USA.
During this time Appeal's expertise in design and innovation has helped them to become leaders in the highly specialised conservatory blind market.The timeless attraction of Appeal's huge range of conservatory blinds is that they complement both contemporary and more traditional interiors - making them perfect for all sorts of different surroundings.
Richard Hussey, Marketing Director of the Appeal Group says, "We're really excited about exhibiting at the Ideal Home Show 2010. There's a real buzz around this year's show with the prospect of lots of new events and celebrity appearances". He continues to mention "At Appeal we're particularly looking forward to exhibiting our new ranges of North American Window Shutters and Honeycomb conservatory blinds. Certainly the Appeal stand has been very busy and initial feedback from visitors is that both the shutters and blinds provide a stylish solution to controlling the room temperature and providing privacy."
NEW FOR 2010 - Appeal is proud to launch a new range of North American Cedar Window Shutters. Beautiful, stylish and versatile, Appeal Window Shutters can instantly transform any room in the home. Maintenance free, they complement any style of room from traditional to contemporary.
Hand-crafted to order from sustainably sourced North American Cedar wood, Appeal have selected this premium quality wood due to its naturally attractive appearance, its durability, lightness, and strength.
Appeal's special slim louvre design makes it simple to control the light and shade in the room. When opened they allow in more light and give a clearer view. For maximum privacy or to reduce outside noise, they can be closed completely.
Cedar has significant benefits when compared with lower quality alternatives. It provides exceptional stability and resistance to moisture, heat and cold. In addition it is the only shutter wood that can be oiled for a natural appearance.
The high stability of the wood makes North American Cedar Window Shutters suitable for any shape or size window. Unlike curtains, shutters are just as attractive viewed from the outside or within. They are also highly effective at providing additional insulation and keep rooms noticeably warmer in winter and cooler in summer.
Appeal's made to measure shutters are available in different styles - each with their own individual benefits:

Full Height - Simple and elegant, these full height shutters cover the whole window. The louvres can be made in sets, providing flexibility when it comes to shading and privacy.
Café style - Fitted only to the bottom half of the window, these are a popular choice for town or city dwellers - whilst providing privacy from the street, they let in light through the top half of the window.
Tier on Tier - Are in essence one set of shutters installed on top of another. This style is exceptionally versatile as it allows the top and bottom sets of shutters to be opened or closed independently.
Solid Shutters - Akin to wooden panelling, Appeal's Solid Shutters add a period feature to the home and when closed provide a real feeling of privacy.
Appeal's bespoke shutters are also available in special shapes - curved, triangle, circles… virtually any shape is possible meaning that almost any window can have an Appeal Shutter fitted!
A range of finishes and colours are also available, these can also be painted in custom colours to sit better with your existing interior colour scheme. Appeal window shutters can also be motorised for maximum convenience.
Appeal's Original French Pinoleum Blinds
Available in a wide range of historic paint colours and can be colour matched to any colour required. These are hand-crafted from sustainable hardwood, sympathetically link the home and the garden and lend themselves to soften and enhance the stark effect otherwise caused by a large expanse of glass - linking the interior to the view beyond.
Appeal Solar ® and Alu-Pleat ® Blinds
Any room with a large expanse of glass is going to experience extremes in temperature. Appeal's innovative, high performance Alu-Pleat® and Solar R® blinds reflect an astonishing 85% of heat energy - providing the solution to the experience of extremes in temperature - particularly prevalent in conservatories and garden rooms.
Appeals' Solar ® and Alu-Pleat ® blinds are the most heat reflective blinds available on the market today. Successfully reducing the build up of excessive heat in the room on a hot sunny day, and providing valuable insulation in the cold winter months.
During the hottest part of the day the sun's rays beat down and around 70% of summer heat build up comes through the roof of a glazed room, making roof blinds essential. Research shows that roof blinds are therefore three times more effective at reducing internal temperatures in a conservatory than window blinds. Blinds also offer valuable insulation in the colder winter months. Research collected from an independent study showed that the addition of Appeal's Alu-Pleat® and Solar R® blinds to a conservatory roof are more effective at reducing the build up of temperature in the summer and insulating the conservatory in the winter than any other blind tested.
Appeal's Pleated Blinds
Our blinds come with the exclusive Perma Pleat technology that prevents the pleats gathering at the bottom of roof and window blinds. Appeal's range of pleated blinds is available in a wide range of contemporary colours and are a popular choice due to their stylish look.
NEW FOR 2010 - Appeal Honeycomb Blinds
A beautiful looking pleated blind with a clever honeycomb structure. Unlike other pleated blinds the operating cords are hidden within the fabric.The benefits are that it looks better and has improved insulation.
Perfect for applications where dimout or blackout is required and can be used in both windows and rectangular roof blinds.
Appeal's Aluminium Venetian Window Blinds
Perfect for any window - designed to sit flush against the glass. Aluminium Venetian blinds are very thin so that when they are retracted there is minimal stack height - ensuring you have unobstructed view through the window. They are able to provide complete privacy and shading when closed.
Appeal Motorised Blinds
Any of Appeal's blinds can be installed to operate via a discrete motorised remote control system. Using the latest technology from Somfy (the world leaders in motorised power units for automatic blinds) Appeal's intelligent PowerDrive™ system allows the remote control operation of individual blinds or groups of blinds. This is especially useful when opening and closing hard to reach roof blinds.
On top of all of this Appeal provides a full 5 years 'parts and labour guarantee' for its entire range of Conservatory Blinds and North American Cedar Window Shutters.
# # #