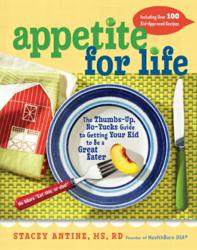 APPETITE FOR LIFE provides kid-tested and approved recipes for dishes that the entire family can enjoy, and a healthy approach to eating that children will benefit from for a lifetime.
San Francisco, CA (PRWEB) September 12, 2012
While parents hope their children will eat healthy foods, the reality of hectic schedules, confusion about the latest nutrition news, and power struggles at the kitchen table can lead to frustration and lifelong health complications, including childhood obesity and other health conditions for children.

Childhood obesity now affects 17% (12.5 million) of all children and adolescents in the US, with increasing numbers of children suffering from "adult" diseases—like diabetes, high cholesterol, and high blood pressure.
Record levels of inactivity among children: children between the ages of 8-18 spend on average up to four hours a day watching TV, plus additional screen time on video games, computers and cell phones. In many schools, daily gym classes and active playground recess are nonexistent, and less than 10 percent of kids walk to school.
More than 25% of America's kids and teens take prescription drugs on a regular basis, including anti-hypertensives, sleep aids, non-insulin diabetes meds and statins to treat high cholesterol. These are lifestyle diseases that are being treated with drugs, not healthy-lifestyle education.
The great news is that getting kids to try and enjoy healthy foods need not be a chore or a challenge. With over 20 years of experience in the field of food and nutrition, and a successful track record of helping thousands of families change their eating habits from fast food to natural food, Stacey Antine, M.S., R.D. is an expert who parents and kids can agree on. As founder of HealthBarn USA, Antine brings kids to the garden of healthy eating and living and makes the transition as fun as it is effective. Now, she brings HealthBarn USA to kids and parents everywhere with her first book, APPETITE FOR LIFE: The Thumbs-Up, No-Yucks Guide to Getting Your Kid to Be a Great Eater—Including Over 100 Kid-Approved Recipes (September 2012; $26.99 Hardcover).
Stacey Antine founded HealthBarn USA in the suburbs of New York City in 2005 as a hands-on means to combat the poor eating habits and declining health of children. By engaging children at the source of healthy foods—the garden and kitchen—she has successfully helped more than 30,000 children and their families to raise their nutritional literacy. Through games and activities, children learn that fresh ingredients from nature are best for bodies, minds, and taste-buds, as well. APPETITE FOR LIFE guides the conversation between parents and children with its "no yucks allowed" approach. Children use their thumbs to indicate their taste for vegetables, fruits and healthy recipes (thumbs up for "I like it"; thumbs to the side for uncertainty; thumbs down for "I don't like it"). With this positive, empowering approach, children become the family taste tester, ensuring that they will try every healthy ingredient at least once.
APPETITE FOR LIFE:

Takes the guesswork out of feeding kids healthy meals from breakfast to bedtime with an effective approach that includes making kids the family taste testers
Helps parents to be the facilitators of health, not the no fun rule enforcers
Provides more than 100 recipes for every day and celebrations
Engages children in the kitchen and the garden, and teaches them the differences between natural and artificial foods
Provides fun and educational games that parents and children can play together
Includes a "Week-at-a-Glance Recipe" section to help parents avoid making a run for fast food during dinnertime.
HealthBarn USA's "…motto is 'strong bodies, healthy minds'" and their "…goal is simple: to teach children (and the parents who love them) about great-tasting, nutritious food." Although the recipes included are created for children, the 100 plus recipes in the book are decidedly not "kid food." APPETITE FOR LIFE provides kid-tested and approved recipes for dishes that the entire family can enjoy, and a healthy approach to eating that children will benefit from for a lifetime.
About the Author: Stacey Antine, MS, RD, is the founder and CEO of HealthBarn USA, which opened its first location at Abma's Farm, Wyckoff, New Jersey in April 2005 and its camp program at Hilltop Hanover Farm and Environmental Center in Westchester, NY. Antine teaches a wildly popular "Try it, you'll like it" school assembly program nationwide. The positive impact of HealthBarn's programs is proven effective by research conducted by Teachers College Columbia University, the leading nutrition education research institute. The author has been featured on The Rachael Ray Show, named women entrepreneur to watch by Business Week, and featured as "Our Hero" by the Academy of Nutrition and Dietetics for her dedication to children's health. Stacey Antine lives in New York City.
APPETITE FOR LIFE
The Thumbs-Up, No-Yucks Guide to Getting Your Kid to Be a Great Eater—Including Over 100 Kid-Approved Recipes
By Stacey Antine, MS, RD
HarperOne
On Sale September 2012; $26.99; Hardcover; 9780062103703
Also available as an eBook