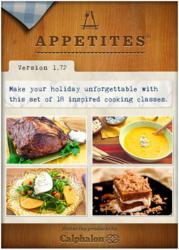 Calphalon is the perfect partner for our new holiday content. Their exceptional line of products really enhance Appetites. Our chefs love using the cookware in the interactive cooking classes
EL SEGUNDO, CA (PRWEB) December 26, 2012
Appetites®, the best-selling cooking app for iPad, iPhone and iPod touch, has partnered with Calphalon® to develop over 30 new holiday cooking classes for novice and experienced cooks alike. The partnership between the award-winning cooking platform and the top consumer brand results in a unique set of instructional cooking content sure to excite and educate those looking for new seasonal menu ideas.
Appetites' signature step-by-step video format allows users to learn classic and new favorites in the Friends & Giving and Holiday packs taught by popular chefs, from the chai spice pumpkin pie by chef Evan Kleiman to Becky Ream's maple bacon cornbread.
With its unique and interactive video format, Appetites makes it easy for cooks of all skill levels to learn new dishes. This new partnership with Calphalon allows Appetites users to see how using the right tools and high-quality cookware will benefit their adventures in the kitchen.
"Calphalon is the perfect partner for our new holiday content. Their exceptional line of products really enhance Appetites. Our chefs love using the cookware in the interactive cooking classes," said Nick Alt, creator of Appetites.
"At Calphalon, we love to see cooks discovering their own potential in the kitchen," said Kamie McHenry-Eckert, Senior Manager of E-Marketing for Calphalon. "Appetites' engaging tutorials demonstrate how step-by-step video instructions, combined with the right cookware and accessories, make it easy to learn fundamental skills as well as master advanced techniques."
Appetites is available on the App Store for iPad, iPhone and iPod touch. The app comes with over 100 cooking classes including the new Holiday and Friends & Giving packs.
About Appetites:
Appetites, a 2012 Webby Award Honoree, is a step-by-step video cookbook app created by Nick Alt and his company Clear-Media. Based in Los Angeles, Appetites produces interactive cooking classes and mobile software for the iPad, iPhone and iPod touch. Appetites is available for download on the App Store (http://bit.ly/appetites_appstore) and more information is available on appetitesapp.com, facebook.com/AppetitesApp and twitter.com/AppetitesApp
About Calphalon:
Calphalon is a leading manufacturer of professional quality cookware, cutlery, bakeware, kitchen electrics and accessories for the home cook. Based in Atlanta, Calphalon is a part of Newell Rubbermaid's global portfolio of leading brands. For more information about Calphalon products, visit calphalon.com, or visit brand social media sites at facebook.com/calphalon and twitter.com/calphalon.
Appetites is a registered trademark of Clear-Media, LLC.
iPad, iPhone, iPod touch and App Store are trademarks of Apple, Inc. registered in the US and other countries. App Store is a service mark of Apple, Inc.
Calphalon is a registered trademark.