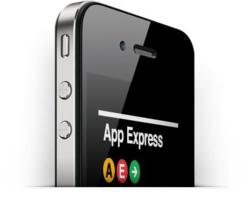 We chose App Express because of the service it provides to small and local businesses at a price point they can afford.
Austin, Texas (PRWEB) April 04, 2012
App Express today announced a partner agreement with Search Local LLC to resell its affordable mobile app builder that enables small and medium sized businesses to engage customers and grow their businesses with powerful mobile apps. App Express is designed to solve the hard business problems for SMBs, such as payments, appointment scheduling, messaging and marketing with coupons, deals and social sharing.
"Smartphones and other mobile devices have become staples in today's culture," said Sheik Hamil, sales director, Search Local. "Having a mobile application is rapidly finding a place on the list of a company's must-haves. We chose App Express because of the service it provides to small and local businesses at a price point they can afford."
"We are pleased to welcome Search Local to the App Express partner network," said Mary Beth Brendza, chief executive officer, App Express. "App Express will enable Search Local to provide an advanced mobile solution that will enable its customers to build loyalty with local mobile consumers."
App Express features include:

Appointment scheduling – display availability and schedule appointments
Payments – invoice and receive payments on the go
Messaging – connect with customers in real time
Sharing – share app with friends and followers on Facebook and Twitter. Engage users to "follow" your business on Twitter and "like" your business on Facebook
Deals – engage customers with loyalty and couponing system
Information – provide essential contact information and menu of services
One-page, mobile-optimized website – the most important "on-the-go" contact information to promote app discovery by directing the user to download the app
For iOS and Android platforms
App Express is available to SMBs through a network of white-label providers and resellers like Search Local. App Express positions partners for success with a dedicated account manager, priority customer support and a range of sales, operations and marketing resources.
Search Local is working with small-business customers to build and manage their web marketing presence through a powerful combination of online directories, digital advertising and packaged website solutions.
"Our goal is to offer cost-effective advertising and marketing solutions for our business customers in the communities we serve," said James Mack, managing partner, Search Local. "Our services include a comprehensive suite of digital media that includes local Internet information, advertising networks, reputation management, website hosting, online video, search engine optimization, and now, mobile apps with App Express.
About Search Local (http://www.SearchLocal1.com)
With more than 35 years of combined industry experience, Search Local is a locally owned and operated media company based in Matamoras, Pennsylvania that brings local business owners and customers together. Our objective is to help the members of our community learn about one another and the various kinds of business available. For more information, visit http://www.SearchLocal1.com.
About App Express (http://www.AppExpress.com)
App Express was founded in 2011 by a team of tech-savvy small-business experts to bring the power of mobile apps to small and medium-sized businesses. The company's affordable, do-it-yourself mobile app building solution quickly and easily creates professional, sophisticated apps that solve the hard problems SMBs encounter, such as payments, scheduling, couponing/deals and messaging. Mobile apps from App Express enable SMBs to open a direct channel of communication with customers to build loyalty, increase efficiency and grow their businesses. The start-up is backed by $3 million in funding from Veronis Suhler Stevenson through VSS portfolio company User Friendly Media. Visit App Express on Facebook at https://www.facebook.com/theappexpress and on Twitter at https://twitter.com/#!/TheAppExpress.
###