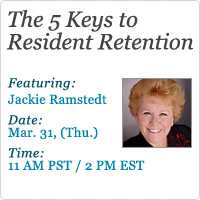 Santa Barbara, CA (PRWEB) March 22, 2011
Grace Hill and AppFolio, Inc. announce a free Web seminar for property managers scheduled for Thursday, March 31st at 11am PST / 2pm EST. This webinar features Jackie Ramstedt, a nationally renowned keynote speaker and performance consultant in the multifamily industry.
Renters today are voting with their dollars and only continue to do loyal business with companies who keep the promises made during the leasing process. This means that improving resident retention can make a great impact on business profitability and this Webinar will give property managers the tools to master this challenging task.
This complimentary webinar is open to all residential property managers interested in the topic. This is a popular webinar and we are anticipating a high turnout, so reserve your seat today.
Webinar Highlights:

How to outsmart and outperform your competition and why it matters.
How to uncover the daily issues that cause the failures in communication that negatively impact trust.
Why you need to find out more about your customers so you can personalize their experience.
How to come up with a plan that "mirrors" your specific residents.
How to understand the real cost to your business of poor customer service and resident turnover.
HOSTED BY: This educational event is hosted by Grace Hill, the leading provider of education and networking opportunities for members of the multifamily industry, and AppFolio, providers of web-based property management software designed for the modern residential property manager. AppFolio continues to provide property managers with resources, education and tools to help them run a more profitable and successful business. In addition to regularly scheduled, free webinars, AppFolio hosts two of the most popular educational platforms PropertyManager.com and GreenPropertyManagement.com,.
SPEAKER: Jackie Ramstedt has more than 25 years of experience in the multi-housing industry and has educated thousands of property management professionals at events such as NAA, Multi Housing World Conference, IREM and other state and local associations. This is a great opportunity to learn from a multifamily expert.
ABOUT APPFOLIO
Headquartered in Santa Barbara, AppFolio was started by a team of technology leaders with proven experience creating software that businesses love to use. AppFolio creates complete, easy-to-use, web-based solutions for multiple vertical markets and the first AppFolio SaaS service was specifically created for residential property managers. With investors including Cisco Systems, BV Capital and the Investment Group of Santa Barbara, AppFolio's rapid growth is being fueled by very happy and loyal customers.
###