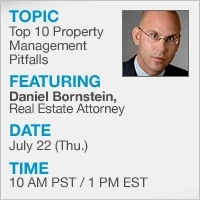 Santa Barbara, Calif. (PRWEB) July 20, 2010
AppFolio, Inc., providers of web-based property management software, announces a free web seminar for property managers scheduled for Thursday July 22nd at 10am PST. Residential property managers will have the chance to learn from an expert in Property Management Law without leaving their desk.
Daniel Bornstein, experienced Real Estate Attorney (founding partner of Bornstein and Bornstein Law) and Licensed Realtor / Broker, will share an insiders view of how to avoid the common property management mistakes that cost money and result in potential legal liability.
Webinar highlights:

What property managers should know about landlord / tenant law. Avoid the mistakes that can result in legal liability.
Ideas to better manage relationships with your owners.
Compensation ideas to help retain your most talented employees.
How to integrate technology to increase your productivity and stay compliant.
And more….!
This complimentary webinar is open to all residential property managers interested in the topic. Reserve Your Seat.
This educational event is hosted by AppFolio, providers of web-based property management software designed for today's residential property manager.
Headquartered in Santa Barbara, AppFolio was started by a team of technology leaders with proven experience creating software that businesses love to use. AppFolio creates complete, web-based solutions for multiple vertical markets and the first AppFolio product was specifically created for residential property managers. With investors including Cisco Systems, BV Capital and the Investment Group of Santa Barbara, AppFolio has secured $30 million in funding to date.
# # #