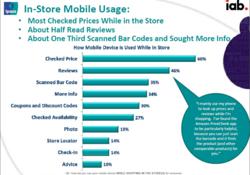 I knew it was time to get my business mobile but was not sure where to start until I found AppsGeyser.
Alexandria, VA (PRWEB) May 07, 2013
The world is becoming more reliant on mobile technology and more and more businesses are turning their attention to becoming mobile. AppsGeyser is helping businesses take their first steps into the mobile world by teaching companies how to incorporate marketing ideas into their apps.
What many businesses are unaware of, is that they can use mobile apps to aid their marketing campaigns. Mobile marketing is now the most successful way in which businesses can connect with their audience in real-time. Recent research, highlighted in the report, 'Showrooming: Empowering Consumer Electronics Shoppers' provides evidence that 42% of shoppers are using mobile apps while in-store to help make purchasing decisions. With almost half of their audience on mobile, it is vital that businesses incorporate mobile advertising into their business plans.
AppsGeyser suggests that app makers should create an Android app in order to communicate with their audience in three different ways: firstly, to announce the company's latest offers; secondly, to highlight price comparisons with competitors, and; finally, to include a loyalty scheme for app users. These three app usages have been proven to encourage the audience to use the app and become loyal to the brand increasing sales.
Local business owner Gary St. John recently created an Android app, he told us, "I have seen more people engaged with their mobiles in recent months while in-store, I knew it was time to get my business mobile but was not sure where to start until I found AppsGeyser."
"Reports have shown us that more businesses are becoming mobile,"AppsGeyser Co-founder Vasily Salomatov, explained, "We already have the tools for businesses, what we needed to do was to educate businesses in understanding why and how they should make their businesses mobile."
About AppsGeyser
AppsGeyser, launched in February 2011, is a fast growing Android app creation platform. AppsGeyser enables users to create apps for Android devices from any web content in under five minutes. AppsGeyser has seen more than 393,000 apps created on its platform. There have been more than 266 million downloads of its apps.