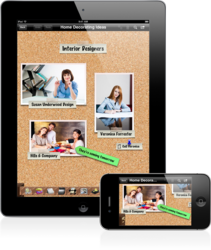 Corkulous is such a unique app. We wanted to make the experience available to all iOS users by making it free.
Orem, Utah (PRWEB) February 14, 2012
Appigo® today announced that Corkulous™, the company's idea board app, is now available as a free download on the App Store. Corkulous lets people visualize, brainstorm, and organize ideas on iOS devices using a large virtual cork board. The free version of Corkulous gives users a single cork board for arranging their ideas. The app also includes option to add the "Pro Features" which enables all the features available in Corkulous Pro, the paid version of Corkulous.
"There are a lot of productivity apps on the App Store, but none of them let you visually organize stuff the way Corkulous does," said Calvin Gaisford, Appigo's CEO. "Corkulous is such a unique app. We wanted to make the experience available to all iOS users by making it free."
Corkulous is a visual departure from Appigo's more structured productivity apps: Todo and Notebook. On a Corkulous board, users arrange notes, labels, photos, and other objects to create a concept. Brainstorming, event planning, and visual note taking are just a few of the possibilities when using Corkulous.
The new free version of Corkulous gives users the main features of Corkulous on a single cork board. These users can also connect to a Dropbox folder and view boards shared by Corkulous Pro users. An upgrade option is also available.  Users may add the "Pro Features" to extend the basic functionality of the app.
Once a user upgrades Corkulous by adding the pro features, Corkulous can automatically keep boards updated between an iPad, iPhone, and iPod touch using iCloud or Dropbox. This makes it easy for users to record their ideas wherever they are and view them on any of their iOS devices.
The pro features include additional options which make Corkulous more powerful. Unlimited top-level and sub-level boards give users more space to keep ideas organized. Board templates provide a way for quickly creating boards that are similar. Passcode locking helps to protect ideas that may be more confidential.
Pricing & Availability:
Corkulous is available as a free app on the iTunes App Store with a $4.99 (USD) in-app purchase option to add the "Pro Features."
Corkulous Pro is available on the iTunes App Store for $4.99 (USD) and includes the pro features mentioned above.
Corkulous requires iOS 5.0 or later. Corkulous requires an Internet connection when using iCloud and Dropbox which may incur separate fees (contact your Internet Service Provider or cellular data provider for specific details).
iCloud is a service provided by Apple to iOS users which stores Corkulous documents and wirelessly pushes them to a user's iOS devices.
Dropbox is a third party service and currently offers basic accounts free. Dropbox is available at: http://www.dropbox.com/
Media Kit:
A media kit is available on the Appigo Website and includes hi-res app icons and screenshots.
About Appigo:
Appigo develops high quality applications including Todo (powerful task management), Corkulous (ideas at your fingertips), Notebook (notes available everywhere), and AccuFuel (fuel efficiency tracker). With many years of experience in mobile and desktop computing, networking and user interface design, Appigo builds enjoyable software. The products created by Appigo quickly gain favorable reviews worldwide. For additional information about Appigo and their products, including demonstration videos, please visit the Appigo website.
Appigo, Todo, and the Todo app icon are registered trademarks of Appigo, Inc. Notebook, Todo (for Mac, iPhone, and iPad), Todo Online, Corkulous, and the respective app icons are trademarks of Appigo, Inc. Copyright 2008-2012, Appigo, Inc. All rights reserved. Apple, Macintosh, Mac OS, the Apple logo, iPod, iPod touch, iTunes, and iCloud are trademarks of Apple Inc., registered in the U.S. and other countries. iPad and iPhone are trademarks of Apple Inc. App Store is a service mark of Apple Inc. Other company and product names may be trademarks of their respective owners.
###