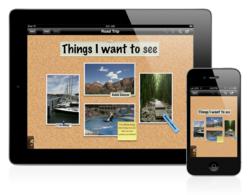 Corkulous continues to be an extremely fun app to use, and it's great with retina based graphics.
Orem, UT (PRWEB) March 28, 2012
Appigo today announced a new version of their Corkulous® idea board app which is now available on the iTunes App Store and includes updated graphics to support the new iPad. The new version of Corkulous also includes remarkable performance improvements to ensure the app works well on older iOS devices.
"The minute we had our hands on the new iPad, we wanted to make a version of Corkulous that matched its beautiful screen," said Calvin Gaisford, Appigo's CEO. "Corkulous continues to be an extremely fun app to use, and it's great with retina based graphics."
Corkulous made its debut to the iOS world as an iPad app. Introduced as a virtual cork board app, it quickly gained high reviews by users on the App Store. The app is commonly used to brainstorm, plan, and organize ideas in a visual manner. Users move notes, labels, and photos on the iPad's touch screen.
In the last major update of Corkulous, Appigo converted it to a universal app, extending its use to iPhone and iPod touch users. Corkulous includes support for iCloud and Dropbox to help users keep their ideas and thoughts up to date between their various iOS devices.
Although the app was functional on smaller devices like the iPhone 4S, Appigo was not as pleased with the performance. This new Corkulous update now takes advantage of some additional graphics processing available to developers in iOS to make the app perform well on both old and new iOS devices.
Pricing & Availability:
Corkulous is available to all iPad, iPhone, and iPod touch users as a free app on the iTunes App Store. A $4.99 (USD) in-app purchase option is available to add "Pro Features," which includes iCloud and Dropbox sharing.
Corkulous Pro is also available as a separate app on the iTunes App Store for $4.99 (USD) and includes all the pro features, including nested cork boards, iCloud, and Dropbox sharing.
iCloud is a service provided by Apple to iOS users and seamlessly keeps Corkulous documents up to date between a user's iPad, iPhone, and iPod touch.
Dropbox is a third party file synchronization service which currently provides free basic accounts. Dropbox is available at: http://www.dropbox.com/
Media Kit:
A media kit is available and includes hi-res app icons and screenshots of Corkulous and other Appigo apps: http://www.appigo.com/media
About Appigo:
Appigo, Inc. is based in Orem, Utah and was founded by Calvin Gaisford (CEO) and Boyd Timothy (President), both Brigham Young University Computer Science alumni. Appigo develops high quality applications including Todo (powerful task management), Corkulous (ideas at your fingertips), Notebook (notes available everywhere), and AccuFuel (fuel efficiency tracker). With many years of experience in mobile and desktop computing, networking and user interface design, Appigo builds enjoyable software. The products created by Appigo quickly gain favorable reviews worldwide. For additional information about Appigo and their products, including demonstration videos, please visit the Appigo website.
Appigo, Todo, and the Todo app icon are registered trademarks of Appigo, Inc. Notebook, Todo (for Mac, iPhone, and iPad), Todo Online, Corkulous, and the respective app icons are trademarks of Appigo, Inc. Copyright 2008-2012, Appigo, Inc. All rights reserved. Apple, Macintosh, Mac OS, the Apple logo, iPod, iPod touch, iTunes, and iCloud are trademarks of Apple Inc., registered in the U.S. and other countries. iPad and iPhone are trademarks of Apple Inc. App Store is a service mark of Apple Inc. Other company and product names may be trademarks of their respective owners.