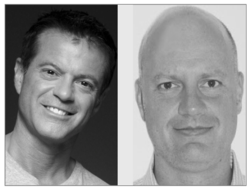 We're pulling the talent together on our team to complement our innovative technology and provide the support services to make it easy for companies to execute influence marketing programs across earned, owned and paid media. - Larry Levy, Co-Founder/CEO
New York. NY (PRWEB) February 27, 2013
Appinions, the only opinion-powered influence marketing platform, has added John Mitchell, Chief Revenue Officer and David Fausel, SVP of Consulting Services, to round out the executive team and position the company to capitalize as the Fortune 1000's trusted influence marketing partner.
John Mitchell has more than 25 years of experience leading sales and marketing at companies like IBM, where he spent 19 years. His mandate is to focus on business growth to accelerate Appinions' roster of clients that includes American Airlines and Dell.
David Fausel comes to Appinions from a strong agency background with Ogilvy, kbp, Wieden and Hal Riney. He brings over 17 years of experience in marketing and advertising, which includes the development and management of global campaigns for brands like Nike, American Express, Diageo and Mercedes-Benz. Fausel will run the consulting services group for Appinions – a team designed and trained as trusted advisors for clients.
The latest hires from Appinions come on the heels of the company appointing industry veterans David Bell and Jon Bond as Chairman of the Board of Mentors and senior marketing advisor, respectively.
"Arguably the most important hire an early stage company makes as they pivot to the growth stage is the Chief Revenue Officer," explains David Bell, Chairman of the Board of Mentors. "John is the perfect person for the job."
"We want to be the 'one throat to choke' for influence marketing," says Appinions co-founder and CEO, Larry Levy. "That has been our vision since the beginning. We're pulling the talent together on our team to complement our innovative technology and provide the support services to make it easy for companies to execute influence marketing programs across earned, owned and paid media."
About Appinions
Appinions is an opinion-based influence marketing platform designed to give companies the unmatched ability to identify, analyze and engage influencers, then measure the results of their influence marketing efforts. Built on more than a decade of Cornell University research, Appinions' patented algorithm allows the platform to extract and aggregate opinions from more than six million sources including blogs, social networks, and traditional media. Appinions is a privately owned company based in New York City.