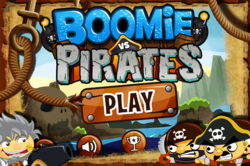 Edwardsville, IL (PRWEB) October 29, 2012
Representatives with Appiteks, an app development company, announced today that its first game called Bommie vs Pirates has reached 37,065 installs on iOS devices.
"The word is out about our game and the word is that it's a must have, must play game," said Chris Luck, ceo of Appiteks. "We're extremely excited about the number of installs that have been reported as it relates to our game, although we knew Boomie vs Pirates was going to be a popular choice for those who love fun and exciting games."
Luck explained that Boomie vs Pirates is a game that's specifically designed for all ages.
"Being someone who has played video games all of my life, I can remember the time when my father used to sit and play games with me when I was a kid," Luck recalled. "Those times were some of the best times of my life, but over the years, a lot of that has gotten lost. There are so many games on the market now that both kids and parents cannot play. I believe in family and having fun things for families to do together and Boomie vs Pirates is one of the few games that everyone in the family can play and enjoy."
Luck, who recently welcomed a new child into his family, said creating games that helps families spend quality time together is something Appiteks strives for.
"During the research and development process for Boomie vs Pirates, one of the things we wanted to take into account is that the game would be something that the entire family could play together," Luck said. "The really awesome thing about this game is that people are flat out having a blast with it."
The chief executive officer went on to pose the question to gamers: "When is the last time you just had a total blast playing games?"
He stressed that the answer for most gamers is that it has been a very long time or that they would like to have access to more games that provide thrills and excitement.
"The entire point of playing a game is to have fun," Luck said. "Boomie vs Pirates, which statistics is clearly showing, is one of the most exciting games on the market right now. We designed this game to go toe-to-toe with some of the most popular games out right now and we feel that Boomie vs Pirates beats all of them, hands down."
For more information, please visit: http://www.appiteks.com