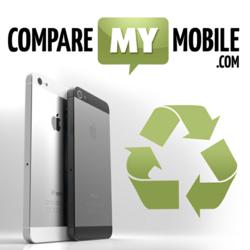 People are realising that by using a service like compare my mobile to recycle their old mobile phones, they can get cash upfront to offset, or even buy out their current mobile contracts to upgrade sooner as we
(PRWEB UK) 12 September 2012
Key Facts:

Trade ins expected to increase by 300% due to the new iPhone 5 launch
iPhone 5 release expected to shave 12% off old ALL iPhone trade in values in September 2012.
Last year when the iPhone 4S was released, the top 5 iPhone models lost a combined total of 181.34 GBP off their value in 3 weeks!
Huge 41% price differences mean consumers who don't compare are expected to loose out on big bucks
iPhone 5 announcement showing the birth of a phone recycling boom.
Apple's latest offering to the smartphone industry, their sixth-generation iPhone 5, was always going to be a huge commercial success and has enjoyed unprecedented levels of interest from the offset. It would seem that potential customers are so eager to get their hands on the revamped Apple smartphone that they are not wasting any time by waiting for existing contracts to expire before trading in their existing hardware in preparation for the purchase.
Andrew Beckett, Co-founder and Commercial Director of Compare My Mobile says:
"People are realising that by using a service like compare my mobile to recycle their old mobile phones, they can get cash upfront to offset, or even buy out their current mobile contracts to upgrade sooner as well as purchase premium devices with higher memory storage."
According to recent released figures, the Apple iPhone 4 16GB smartphone is currently the most popular handset in the UK recycling circles and could potentially return 176.00 GBP to consumers who opt to recycle their device rather than get rid of it through alternative methods. Compare My Mobile, one of the countries leading comparison sites, are reporting statistics that show that Apple currently account for 50% of the top ten recycled devices, with the iPhone 4 and older 3GS being at the center of the action.
Colossal losses expected through customers not comparing prices.
Figures that have been extracted from the August's reports are showing that the total value of the top five Apple handsets being recycled comes in at a rather nice 908 GBP, with the iPhone 4 32GB model making up the largest percentage of that at 305 GBP. Although the figures show that the recycling market could be yielding excellent returns for smartphone owners, the concerning thing is that users could potentially be losing out on a large amount of money due to their reluctance to research the available deals through mobile phone recycling comparison sites. Out of the 908 GBP available to the people recycling the top 5 iPhones, there is a staggering 41% price difference between the deals offered by recyclers (Totaling 396.50 GBP)
High value phones traded in during the iPhone 5 release expected to boost the average trade in value by 10-15%.
With new models being released all of the time and users interest in the latest hardware and feature sets sitting at unprecedented levels, Compare My Mobile are predicting that the average value of all handsets will rise from the current 115 GBP mark to level out at approximately 130 GBP, with the main reason behind this rise being that consumers are looking to shift their high-valued devices before upgrading to the latest iPhone 5 release.
Who are CompareMyMobile?
For those that may not be in the know or are new to the mobile phone recycling industry, CompareMyMobile are an entirely independent and impartial company that offer a mobile phone recycling comparison service. The site and service works by comparing all leading recycling companies in the United Kingdom through its own search engine to make sure consumers can find the best value that matches their specific and unique requirements.
In addition, CompareMyMobile.com have recently added recycling companies to their indexed searches that specialise in recycling consumer gadgets as well as just mobile telephones. As part of the detailed daily checks the site indexes the deals from over forty UK based buyers to ensure the most up-to-date prices.