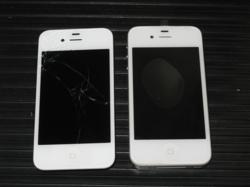 Apple iPhone Service and Repair in Rochester NY
Rochester, New York (PRWEB) August 15, 2012
"While visiting family in Rochester, I dropped my Apple iPhone 4s on the ground and cracked my screen. The Apple iPhone still worked however the broken glass needed to be replaced since it became sharp and could cut my fingers. I was referred to Aware Bear Computers by a family member and had my phone screen repaired and got a new screen for only $95" said Andres Alvez from San Francisco, CA.
Since 2012 Aware Bear Computers has been servicing and repairing Apple iPhone 4 and Apple iPhone 4s in Rochester, NY. AwareBear fixes iPhone screens, iPhone LCDs, iPhone batteries, iPhone backs and iPhone digitizers. All the work is done locally in Rochester, New York.
"Aware Bear Computers stocks the majority of Apple iPhone parts and is able to offer an affordable, local and reasonable price when it comes to any iPhone repair and service in Rochester, New York. Our goal is to get the phone back to you, as quick as possible. At Aware Bear Computers, we understand how important an iPhone can be to a person or even to a business" says Andre Alves from Aware Bear Computers in Pittsford, NY.
The Apple iPhone 4 and 4s screen, glass, lcd repair / replacement $95 promotion is good till the end of August. Aware Bear Computers can also fix other iPhones issues and also services Apple iPad 2 devices.
"Apple estimates that 55 million iPhones were sold worldwide, Aware Bear saw a huge demand for Apple iPhone repair and services in Rochester, NY and decided to offer iPhone repair services to customers in the Rochester area. Our certified techs are able to fix any iPhone issues in the Western NY area (Rochester, NY, Syracuse, NY, Buffalo, NY and Williamsville, NY)" added Arthur Alves from Rochester, NY.
Aware Bear Computers is located on 5 Monroe Avenue in Pittsford, NY. Store hours are Monday – Friday 10am to 6pm, Saturdays 11am to 3pm and closed on Sundays and all holidays. Aware Bear was voted in the top best computer repair stores by the Rochester Business Journal (March 2011). AwareBear is family owned and operated business located in the historical Village of Pittsford by the Eire Canal.
For more information about the Apple iPhone repair and services in Rochester, NY please call (585) 473-7035 or visit the official website http://awarebear.com.
http://www.andreleitealves.com/andrealves/awarebear-apple-iphone-ipad-screen-replacement-rochester-ny/