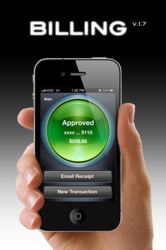 Our goal has always been to provide the best user experience through our software and now we are introducing hardware support that works for any account type.
Boca Raton, FL (PRWEB) May 23, 2011
Spartadata the creator of the innovative touch based signature capture feature in Billing App has just released a free major update version 1.7 of Billing Credit Card Terminal which runs on all the Apple iOS devices. This release brings major features and enhancements which includes various innovative PCI Compliant Credit Card Swiper Support for millions of Merchants world Wide through its tightly integrated gateway support covering Both Card Present and Card Not Present Account types on both Authorize.net and Quantum gateways. An Authorize.net Emulator has also been added for those payment systems that utilize this method as a configuration option. This update also includes customizable Tax function, New Swiper and Devices built-in catalog for easy device and swiper ordering right within the app, Updated Gateway configuration manager, Enhanced Support Portal and resources Built-into the app using a unique dialer UI configuration for one touch access to a multitude of resources such as in-app Printable PDF manual and much more. Lastly this update also adds support for up to 4 merchant accounts at once. This unique feature is not found on any app and serves to offer a wide range of possibilities for businesses with multiple merchant accounts. With this version we now have a truly innovative point of sale terminal in an app that can do much more then any traditional wireless terminal can do. We strive to continue to innovate through creative and unique features that enhance both the merchant and customer experience. This update is free, as is the App.
Unlike other merchant apps Billing app truly is free for anyone to use. We often get told by customers that it is too good to be true, as to the app being free and that they do not have to pay any fees to use it with their existing accounts. Our goal has always been to provide the best user experience through our software and now we are introducing hardware support that works for any account type. This is not a typical feature found on any other app. The benefit and convenience is priceless to both the merchant and the customer and with our ability to sell these various swipers directly through the app makes it available for tens of thousands of merchants. We give our users choices, and freedom of true app portability. Unlike other solutions if a merchant chooses to cancel his or her merchant account they can still continue to use the app with another provider thus continuing to use the tool they enjoy and trust. With version 1.7 we have also included our exclusive merchant account offer for those looking to make a switch to a more affordable and easy to manage merchant account. Our Merchant Partner CDG commerce will be fully supporting Billing app and the new Card present account type for Authorize.net whereby new merchants can save up to a whole percent on qualified transactions. Using the Quantum gateway that is fully supported also reduces the need to pay for a gateway account as it is bundled in for free which also includes advanced recurring billing capabilities and customer management, something other gateways charge for on top of the account.
if you have not yet taken Billing Credit Card Terminal app for a spin, we invite you to download the free app, and check out the full featured demo mode. If you have any of the above gateway accounts and wish to take your business with you anywhere you go then all you have to do is setup the app and your done. As you enjoy the ease of use and HD retina display rich graphics consider our no commitment, no hidden fees merchant account offering as well as our various swipers and devices. We guarantee you will enjoy using Billing app. To Download the app visit http://itunes.com/apps/billingcreditcardterminal
About Spartadata LLC
Established in 2009, Spartadata was founded by Michael Cruz, the inventor of the first touch based signature capture credit card terminal app in the app store. Spartadata was created to serve the credit card acceptance industry through innovative software and hardware solutions while also serving directly to business and merchants through its Billing Credit Card Terminal app. For more information visit http://www.spartadata.com
###