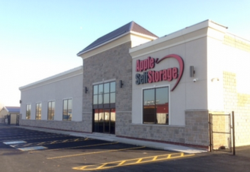 The Readers' Choice Poll award recognizes the facility's convenience, cleanliness, security and friendly service
Newmarket, Ontario (PRWEB) February 09, 2013
For the second year in a row, Apple Self Storage in Newmarket has been honoured by readers of The Era and The Banner newspapers as the best business in its category. The newspapers, covering Newmarket and Aurora respectively, conduct an annual Readers' Choice Poll to recognize outstanding local businesses.
Located at the corner of Davis Drive and Harry Walker Parkway in Newmarket, this Apple Self Storage facility spans over 65,000SF of indoor heated storage with indoor loading bays to keep customers and their belongings comfortable and safe. It also offers outdoor storage for automobiles, boats and RVs as well as one-stop shopping with a wide range of moving and packing supplies.
Newmarket's continued strong growth has created a niche for secure, convenient self storage. Apple's facility offers 24/7 access to accommodate a large and diverse population, whose needs range from a modest space to store delicate antiques to something large enough to house the contents of an entire home.
The Readers' Choice Poll award recognizes the facility's convenience, cleanliness, security and friendly service, which the Canadian company has positioned as the cornerstones of each of its 15 locations. In addition to its Newmarket facility, Apple Self Storage also operates two self storage Toronto locations and one in Waterloo, Kingston and nearby Sharon. Operating under the Atcan Self Storage brand in the Maritimes, the company runs facilities in Halifax, Fredericton and Saint John, among other cities.
About Apple-Atcan Self Storage
Apple-Atcan Self Storage is a provider of secure, convenient and affordable self-storage solutions across Ontario, New Brunswick and Nova Scotia. With an emphasis on service in each of its 15 locations, Apple-Atcan Self Storage strives to help customers find the best solution to their storage needs. The company has also invested in its online presence with features such as state-of-the-art 3D modeling—designed to give customers an accurate idea of the storage capabilities of each unit—an intuitive reservation process and plans to create a mobile site. Visit http://www.applestorage.com to learn more.
For further information:
Michael Naoum, District Manager
Apple Self Storage
Phone: 905-954-0098
Email: info(at)applestorage(dot)com