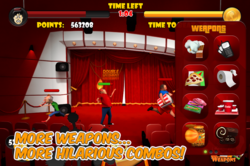 Dream Bot Studios has given gamers something else to play instead of solitaire and scrabble. The Apple apps developer has created Flicked Off At The Movies another one of their free iphone games
Miami, FL (PRWEB) February 27, 2013
Dream Bot Studios has given gamers something else to play instead of solitaire and scrabble. The Apple apps developer has created Flicked Off At The Movies another one of their new iphone games. The iPhone app is set in a movie theater, the iphone games developer wanted to share a hilarious arcade style iphone game experience where one annoys movie goers so they call in the usher to begin the battle.
Flicked Off At The Movies allows players to annoy movie goers by flicking items secretly from the back of theater. Iphone gamers must strategically use specific weapons to slow down movie goers from finding you. Such weapons include sticky gum to toilet paper to turn movie goers into walking toilet paper zombies, plus many more. Build up combos and gather coins to purchase additional items and weapons so your ready for some wildly fun boss battles.
Dream Bot Studios hopes to be one of the best iphone apps with their unique boss battles. Flicked Off At The Movies allows gamers to battle ushers by tossing items at the many boss characters such as the Usher Boy, Usher Bodyguard, and Usher Assassin. Each boss has it's own unique special ability making the iphone app more challenging to beat. Gamers will have a set amount of time for each level, the gamer must annoy movies goers to have them call in the usher then the battle begins. Players battle against player around the globe to see who can achieve the highest level, most craziest combos, and fastest completion times.
Flicked Off At The Movies can be downloaded from the iphone apps store now at no cost for a limited time. The original price was $4.99, Dream Bot Studios wanted to offer it's iphone games at no charge to allow more gamers to enjoy their free iphone apps.
Be sure to like Dream Bot Studios Facebook page for more iphone games and don't forget to download Flicked Off At The Movies soon before the private link expires.