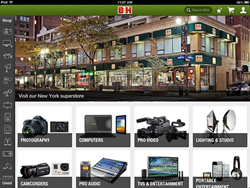 The innovative search and browsing functionality of the B&H Photo Apple iPad app will really set it apart, and give customers the quality experience they deserve.
New York City, NY (PRWEB) June 04, 2013
B&H Photo, the largest photography and video source in the World, is widely known as the first stop for purchasing photography and video equipment. This year, B&H sought to build an innovative app for iPad to satisfy their growing mobile audience.
Available today, the B&H Photo Apple app for iPad establishes a new precedent for mobile commerce, offering customers a unique way to browse B&H's expansive and diverse portfolio of products. "It has definitely been an exciting project, and we've come away with some really neat elements under-the-hood" Senior Developer Nick Donaldson remarked.
Raizlabs set out to develop a more intuitive browsing experience. A new way of browsing by category allows for a swift way to explore B&H's enormous catalog of items. "Introducing a method to easily refine searches allows for a more engaging app experience," Raizlabs Creative Director Jon Green observed. "A living 'table of contents' is always just an edge swipe away."
A standout design in the app involved adding a representation of one of B&H's signature brick and mortar touches.
"We're very excited about the new iPad app, and look forward to seeing it out in the wild," said Eli Weiss, Mobile Commerce Manager at B&H. "The innovative search and browsing functionality of the app will really set it apart, and give customers the quality experience they deserve."
Be sure to download the new B&H Photo Video application, available today in the Apple App Store.
The brand new B&H Photo Video app for iPad allows users to shop their vast product catalog in a new and revolutionary way. View products with full-screen high-resolution photos, read professional reviews, and get educated on specifications and features. The app makes it simply effortless to browse and search for products, check product availability, and share products with friends and family. B&H's goal is to provide one with a state-of-the-art environment to shop, browse, and learn about the products one loves, regardless of whether you shop on the B&H Photo Website, in the SuperStore, or on the apps.
Some of the new Apple iPad app's features:

Browse their vast catalog with an easy-to-use and intuitive interface
Order securely and safely on the fly from an inventory of hundreds of thousands of products
Check out with the favorite methods, Wallet, PayPal Checkout and the B&H Secure Checkout
Go back in time, and track an old purchase with a newly-designed Order History feature
Read professional product reviews, with detailed descriptions, specs, videos, and view high-resolution product images
Add products to a wishlist, share wishlists, and create wishlists, all on the go
Share a product with a friend on Facebook, Twitter, and email
Download user manuals to many products, in PDF format, right to the device
All in all, the B&H iPad App brings new resources to working professionals in the field, or to those who prefer mobility. The new mobile app is an extension of the B&H Photo website and superstore, that includes reliable speedy shipping, competitive pricing, and excellent customer service.
Connect with B&H Photo on the web! (Facebook, Twitter, Tumblr, Google+, Pinterest, Flickr, YouTube, B&H Insights & InDepth)
About B&H Photo Video
As the world's largest source of photography, video and audio equipment, B&H Photo-Video is known worldwide for their attentive, knowledgeable sales force, and excellent customer service, including fast, reliable shipping. Visitors to the website can access a variety of enlightening articles and educational videos. B&H has been satisfying customers worldwide for close to 40 years.