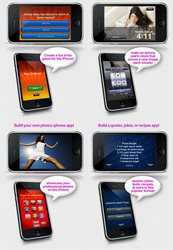 Users simply provide the content—text, sounds or images—and the Web site's team of experts program, assemble and submit the final product to Apple.
Edinburg, TX (PRWEB) May 19, 2010
CreateFreeiPhoneApps.com recently made a number of enhancements, making it even easier for people to use the free Web site to build their own iPhone and iPod applications.
CreateFreeiPhoneApps.com—which is also fully compatible with the Apple iPad—has expanded its app collection by a full 20 percent. "After seeing a trend in what people were making, we've opened up three new app builders: True or False trivia quizzes such as urban legends trivia games; Picture flip books such as comics or photo galleries; and Q & A format apps such as riddle apps," said Adan Vielma, president of IntroWizard LLC, which operates the Web site. "We now have 20 app makers for all sorts of apps." 
After extensive user testing, CreateFreeiPhoneApps.com has completed several improvements to make the process of creating apps even easier, smoother and faster. The Web site has included helpful pointers throughout the online builder to inform people where they are and what they have to do next. "With the improvements we've made, it should be easier than ever to make a great iPhone app with our online builder," Vielma said.
The Web site has also developed its own custom review software to facilitate the process of submitting apps. The new software gives app makers detailed responses during the review process, including tips for improving their submission if tweaks are required. In addition, CreateFreeiPhoneApps.com has expanded the Q & A topics in its support area to provide immediate answers to common post-submission questions and expedite the submission process. "All the changes we've made are designed to allow us to review app submissions faster, which means less time waiting for your app to be submitted to the app store," Vielma said.
Vielma says he is excited about CreateFreeiPhoneApps.com's improvements and impressed with how users have responded to the online builder software. For example, Andrea Webster of San Diego, Calif. said: "Thanks to createfreeiphoneapps.com, I'm having a blast. With this software, creating apps is easier than I ever thought possible."
CreateFreeiPhoneApps.com is the ideal solution for novice application developers because it walks users through the entire app development process. Users simply provide the content—text, sounds or images—and the Web site's team of experts program, assemble and submit the final product to Apple. Unlike other app builder services, the Web site provides free review, building, and submission of apps to the App Store.
To learn more about http://www.CreateFreeiPhoneApps.com, please visit the Web site or contact Adan Vielma directly at (503) 770-0171.
About IntroWizard LLCIntroWizard LLC was founded in 2003 by Adan Vielma to meet the public's Flash design needs through intro and Flash Web site builders. The company distinguished itself early on by creating Flash4D, an award-winning Flash intro builder that has received 500,000+ downloads to date in more than 35 countries. Since then, Vielma has grown the company from a single-man operation into a global team of designers and consultants that deliver Web-based solutions worldwide. IntroWizard LLC recently expanded into mobile software development, creating applications for Apple's iPhone, iPod Touch and Android platforms. The company also offers consulting services for both Flash design and mobile app development. IntroWizard LLC is a privately-held firm that is based in Edinburg, Texas.
Contact:
Adan Vielma, President IntroWizard LLC
(503) 770-0171
developers(at)createfreeiphoneapps(dot)com
###