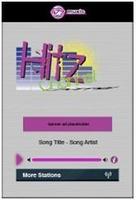 Minneapolis, MN (PRWEB) June 8, 2009
977 Music, one of the largest independent online free radio providers proudly announces the launch of their free 977 Music online streaming radio application for the Apple iPhone and iTouch handheld portable media devices. This small but robust App enables Apple customers everywhere to enjoy the best of 977 Music's online radio stations, just like on the PC.
Be the first on your block to download the new 977 Music application for your portable Apple device. Regardless of cell phone service, be it; Edge, 3G, Data Roaming or even listening directly from a Wireless network, it's all the same to 977music.com's iPhone and iTouch compatible application. Enjoy crystal clear HD stereo streams on any data network with full artist and title support built directly into the 977 Music's App. A quick glance will determine the current artist and track information. Want to listen to something new? Easily jump, skip or hop between many great free online radio stations with a touch to your screen. 977 Music's iPhone and iTouch App connects to all of the popular radio stations, including; The Hitz, The 80's, Classic Rock, Oldies, Country and more.
Finally, a simple and easy way to enjoy the best radio the internet has to offer while on the go. With 977 Music's App for the iPhone and iTouch offering perfect stereo quality radio streams - never miss a beat again.
About 977music:
Club 977, Inc., the parent company of 977music.com, was formed in the summer of 2000 by current President Jeff Bachmeier as an alternative to terrestrial radio. Starting with only one station, Club 977 The 80's Channel, it has transformed into the 10-station media cluster it is today under the brand 977music.com. With over one million unique visitors surfing the pages of 977music.com each month, now they have a place to socially interact with each other and create an online music experience like no other.
##