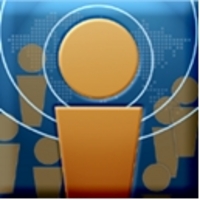 "We continue to have a singular focus; bringing unique features to the social networking landscape. We have many industry firsts and there are more to come. The immense popularity of WhosHere proves that", said Stephen Smith co-founder of myRete
San Mateo, CA (PRWEB) March 1, 2010
WhosHere, the very first Social Networking app for the iPhone to let you meet and interact based on proximity, has surpassed one million users. WhosHere's user community now extends to greater than 150 countries with users sending millions of free text messages and images per day.
WhosHere achieved many firsts for a social networking application on Apple's iPhone and iPod touch platforms, including the ability to meet new people nearby regardless of network connection type. WhosHere was the first social network allowing free anonymous VOIP calls, and WhosHere was the first social networking application to enable virtual travel.
In it's most recent version, WhosHere 2.2 added integration with Facebook, and Twitter and the debut of virtual travel. The virtual travel feature uses Apple's In-App Purchase functionality allowing WhosHere users to locate their profile any where in the world unlocking the ability to interact with even more users.
"We continue to have a singular focus; bringing unique features to the social networking landscape. We have many industry firsts and there are more to come. The immense popularity of WhosHere proves that", said Stephen Smith co-founder of myRete – the makers of WhosHere.
WhosHere is a social proximity networking application enabling users to meet friends, potential dates, or network through an exceptionally well-designed interface. WhosHere shows matching profiles nearby or anywhere in the world based on answers to a few questions about yourself and who you are interested in meeting. WhosHere takes the chance out of the chance encounter. Simply find someone you want to talk with then send unlimited, free text and image messages, and make and receive free calls; all within the WhosHere application.
WhosHere runs on Apple's iPhone and iPod touch and is available for free download on Apple's iTunes App Store and can easily be found at myRete.com/download. Users of WhosHere can find online help at myRete.com/support and on YouTube (http://YouTube.com/WhosHerebyMyRete).
About WhosHere and myRete, Inc.
WhosHere has over 1 million users. Over 625 million free text messages and 18 million free images have been sent via WhosHere.
myRete, Inc. was founded in March 2008 with the singular focus of bringing an exceptional proximity networking experience to the iPhone and its millions of users. myRete's product line includes the WhosHere client and WhosHere application server. Rete is Italian for "network". Offices: San Mateo, CA and Alexandria, VA.
###