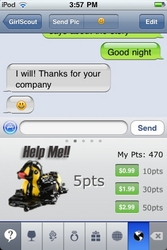 We started WhosHere with a strong desire to leverage our infrastructure and the generosity of our users to support charities. As the BP spill has progressed, we know there was no more appropriate time to act than now. We hope this campaign helps those affected as well as the environment
San Mateo, CA & Alexandria, VA (Vocus) June 24, 2010
WhosHere, the first mobile social networking app for the iPhone to let you meet and interact with new people based on proximity, today announces a campaign to enable users support relief efforts in the Gulf of Mexico.
WhosHere users can buy and give gifts to one another. The virtual gifts range from drinks to flowers to jewelry. Today myRete added a new "Support the Gulf" category of gifts to WhosHere. myRete will donate 75% of the revenue it receives from these goods to the Gulf Coast Oil Spill Fund. The campaign began today and runs until BP has stopped the oil spill.
"We started WhosHere with a strong desire to leverage our infrastructure and the generosity of our users to support charities. As the BP spill has progressed, we know there was no more appropriate time to act than now. We hope this campaign helps those affected as well as the environment", said Stephen Smith co-founder of myRete – the makers of WhosHere.
WhosHere users buy points using Apple's In-App Purchase process. The points are used to let users select gifts to send. Whenever a user selects a Support the Gulf item, they will spread the word about the impact to the Gulf while raising money to help at the same time.
The Greater New Orleans Foundation administers the Gulf Coast Oil Spill Fund. The Greater New Orleans Foundation opened the Gulf Coast Oil Spill Fund to assist commercial fishermen and their families as well as address the environmental impacts of the Deepwater Horizon spill.
WhosHere is a social proximity networking application enabling users to meet friends, potential dates, or network through an exceptionally well-designed interface. WhosHere shows matching profiles nearby or anywhere in the world based on answers to a few questions about yourself and who you are interested in meeting. WhosHere takes the chance out of the chance encounter. Simply find someone you want to talk with then send unlimited, free text and image messages, and make and receive free calls; all within the WhosHere application.
WhosHere runs on Apple's iPhone, iPod touch and iPad. It is available for free download on Apple's iTunes App Store and can easily be found at myRete.com/download. Users of WhosHere can find online help at myRete.com/support and on YouTube (http://YouTube.com/WhosHerebyMyRete).
About WhosHere and myRete, Inc.
WhosHere has well over 1 million users. Over 950 million free text messages and 25 million free images have been sent via WhosHere.
myRete, Inc. was founded in March 2008 with the singular focus of bringing an exceptional mobile social networking experience to the iPhone and its millions of users. myRete's product line includes the WhosHere client and WhosHere application server. Rete is Italian for "network". Offices: San Mateo, CA and Alexandria, VA.
###