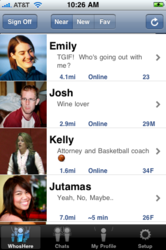 WhosHere is increasingly becoming a global phenomenon. The speed of WhosHere downloads keeps accelerating as our users spread the word, as we continue to add features, improve the user experience and localize the app in more languages
San Mateo, CA (PRWEB) May 25, 2011
myRete, Inc. the makers of the incredibly popular iOS application, WhosHere®, has achieved three million total downloads. This milestone was achieved on April 27; only five months after it acquired 2 million downloads. WhosHere downloads are accelerating at an exponential rate. WhosHere got to 1 million users in 18 months. Nine months later WhosHere had 2 million total downloads.
"WhosHere is increasingly becoming a global phenomenon. The speed of WhosHere downloads keeps accelerating as our users spread the word, as we continue to add features, improve the user experience and localize the app in more languages", said Bryant Harris, founder & CEO.
WhosHere is the first mobile social networking app for the iPhone to let users meet new people and interact based on proximity. The application introduces a user to others with whom they have something in common. When a user finds someone interesting, they can send free text and image messages and make free VOIP calls. All this is done without disclosing any personal information unless the user chooses to provide it.
The most common uses of WhosHere include dating, making new friends, chatting with like minded people, looking for jobs, selling stuff, looking for clients, promoting bands, practicing foreign language skills with native speakers and virtual tourism.
This growth in user adoption and monetization has enabled myRete to become profitable without institutional investments, demonstrating its long term sustainability and viability. WhosHere was a Social Networking finalist in Mashable's 2009 Open Web Awards and was a 2010 Hot Ticket nominee for Best Bootstrap by the Northern Virginia Technology Council.
WhosHere runs on all Apple iOS devices: the iPhone, iPod touch and iPad. It is available for free download on Apple's iTunes App Store and can easily be found at myRete.com/download.
About WhosHere and myRete, Inc.
WhosHere has over 3.0 million users. An average user sends 40 text messages any day they log in. Over 2 billion free text messages and 150 million free images have been sent via WhosHere. It is used in over 150 countries and the app is localized in Arabic, Chinese, Dutch, English, French, German, Italian, Japanese, Korean, Spanish and Thai.
myRete, Inc. was founded in March 2008 with the singular focus of bringing an exceptional mobile social networking experience to the burgeoning smart phone marketplace. Rete is Italian for "network". Offices: San Mateo, CA and Alexandria, VA.
WhosHere is a registered trademark of myRete, Inc.
###