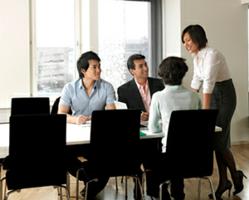 People tend to have the same kinds of objections to health insurance. These misconceptions need to be done away with.
Houston, TX (PRWEB) September 06, 2012
Health insurance is a painful subject for many small business owners. However, with the recent health care reform debate, it is no longer a subject that can be ignored. The goal of health care reform is to ensure that most individuals have health care coverage. This, in turn, will encourage individuals to seek employers who provide health insurance. Beginning in 2014, businesses that employ 50 or more people may be subject to penalties if they do not provide coverage for health care. Due to this increased emphasis on health care, small business owners must begin to reevaluate their options.
In this light, Applefield-Shipp offers answers to common misconceptions about health insurance for small businesses. "People tend to have the same kinds of objections to health insurance," says Joan Shipp, Managing Partner of Applefield-Shipp, an insurance brokerage firm located in Houston and San Diego. "Many business owners see health insurance as too expensive, too inflexible, or too of an much administrative burden. These misconceptions need to be done away with."
Misconception #1: Health insurance is too expensive
Small business owners keep their eyes on the bottom line when considering any expenditures. This is a necessary part of running a successful business. However, possible costs should be properly evaluated before a decision is made. "To dismiss health insurance as being too expensive without investigating the many options available today really isn't smart," warns Shipp.
Insurance is complex, which can create room for more options. "A good insurance brokerage is creative in defining the contributions required from the small business owner and the employees," says Shipp. The goal of this creative customization is to make policies affordable for both the owner and the employee. A customized package can provide all of the desired benefits without becoming too costly. "A solid health insurance solution is a cost-effective hiring and retention advantage for businesses. It's a way to empower employees and to meet their specific needs," Shipp reminds small business owners.
Misconception #2: Health insurance is too inflexible.
Many small business owners who don't currently provide health insurance coverage as a benefit to employees are under the impression that they have to fit the insurance product. "Nothing could be farther from the truth!" says Shipp. "It's the other way around—the product is meant to fit the needs of the business owner and the employees."
"A good health insurance broker is similar to an architect. A broker listens to the needs of the owner and the employees and then use his or her abilities, tools and experience to do a custom build," Shipp explains. A broker takes into account multiple components, such as company size, industry and employee makeup—as well as cost considerations and coverage needs—to design a customized package. "There's no such thing as boilerplate small business health insurance," states Shipp.
Misconception #3: Health insurance adds too much of an administrative burden.
It is true that an employee benefits plan results in additional administrative tasks. This can be a significant burden to small business owners. "Business owners are far too busy to handle the administration themselves." Many owners are also hesitant to further burden their employees with new responsibilities. "A good insurance broker should handle the administrative burden for you," Shipp says. "The advantage of a bringing in a professional team is that they address everything from billing and claims to new hire orientation."
"With impending health care reform, small business owners must reevaluate their beliefs about health insurance," Shipp warns. "Small businesses who do not offer health insurance may soon find it much more difficult to hire and retain good employees."