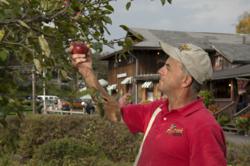 Similar in characteristics to an ice wine yet much less expensive
Fly Creek, NY (PRWEB) September 30, 2011
Today, Fly Creek Cider Mill's Orchard is being harvested, but not for making pies, jams or breads. Rather, the crop now is being reserved for a special purpose that takes place in the dead of winter: producing a wine that tastes like it was just picked from the tree.
The Fly Creek Cider Mill will press its crop, a blend of McIntosh, Cortland, Empire and Macoun to create a sweet cider that is then frozen in 250-gallon juice totes. Over the next three months the cider is allowed to gently thaw and refreeze multiple times permitting the natural flavors and sugars to concentrate and settle. This concentrated juice is then slowly fermented at a low temperature so as to retain a strong fresh-apple taste. The fermentation is stopped at about 11% alcohol content further permitting wine to retain its natural sweetness and strong apple flavor with a crisp tart finish. After a short aging period the Apple Frost is bottled for sale in the Mill.
Similar in characteristics to an ice wine yet much less expensive, the Mill's Apple Frost pairs best with desserts or savory hors d'oeuvre such as pates and strong cheeses.
This year's production of Apple Frost was recently released. Movement is strong next to the Mill's full line of traditional apple wines including the popular Apple Cranberry and Apple Black Currant.
The Fly Creek Cider Mill & Orchard is located just minutes from Cooperstown, NY and 24 miles south of Herkimer. Open daily 9:00 until 6:00 through December 18th the Mill is known for its wide array of specialty foods and Pride of New York Products. Self-guided tours of the historic water-powered Mill and tastings from the Mill Store Marketplace are available everyday.
###