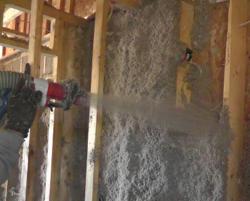 Williams Sales Company will offer Applegate cellulose insulations and Mr. Insulate Cotton Armor...
Eastanollee, GA (PRWEB) May 31, 2012
In a show of confidence in the Southeast building industry, Applegate Insulation announces a partnership with Williams Sales Company, which has been representing building supply producers since 1982. Williams Sales Company will offer Applegate cellulose insulations and Mr. Insulate Cotton Armor blanket insulations while working with Applegate to provide technical guidance, training and marketing support to enhance customer's profitability.
Williams Sales Company covers Georgia, Alabama and Tennessee, and focuses on helping dealers and installers in the building industry find the most cost effective materials for their needs. Headquartered in Atlanta, the center of their service territory, Williams is ideally positioned for on-site customer consultation.
Applegate is known for having pioneered BurnBarrier™ fire retardant treatment for cellulose and cotton insulation. With BurnBarrier, the fire retardants are locked into the insulating fibers giving Applegate less dust than competitors and a permanent treatment, allowing Applegate to offer a lifetime warranty. Added benefits of Applegate insulation are that it contains a minimum 85% recycled content and is widely accepted as meeting most green building criteria.
Customers of Applegate are afforded the opportunity of installation training, equipment leasing and sales workshops and access to the industry's largest library of sales and marketing materials. Applegate is also the only insulation manufacturer that offers a guaranteed heating and cooling cost for homeowners who re-insulate their home.
Established in 1978, Aaron and his son Terry Applegate began manufacturing insulation out of a small facility in Okemos, Michigan. Today, Applegate (headquartered in Webberville Michigan), is the largest privately owned cellulose insulation manufacturer in the world, and supplies a variety of high performance insulation products throughout the United States. Applegate currently operates facilities in Michigan, Wisconsin, Pennsylvania, Kentucky, Georgia, Louisiana, and Colorado. For additional information regarding Applegate Insulation please visit http://www.applegateinsulation.com or to learn more about Cotton Armor please visit http://www.mrinsulate.net, or call (855) 6-COTTON.
###
For editorial interviews, additional information, photographs, and industry specs regarding Applegate Insulation or Mr. Insulate Cotton Armor please contact: Tom VanAlstine at 800-627-7536 or email ask.us(at)applegateinsulation(dot)com.