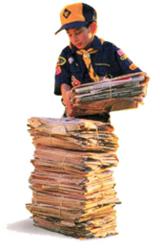 In 2011, Applegate recycled close to 90 million pounds of paper, which would have otherwise been dumped into landfills.
Webberville, MI (PRWEB) January 31, 2012
In 2011, Applegate recycled close to 90 million pounds of paper, which would have otherwise been dumped into landfills. The recovered paper was used in high environmental impact products such as energy saving insulation, and would have been enough to effectively insulate 45,000 homes and potentially keep over 22,000 tons of carbon emissions from entering the atmosphere in 2011.
Since 1978, Applegate has paid out millions of dollars to communities, and grass root organizations such as churches, schools and boy scouts for newspapers they have generated in fund-raising paper-drives and recycling projects. These groups have benefited everyone by partnering with Applegate with their recycling efforts.

First, by removing newspaper out of the waste stream they reduce dependence on landfills and thus ease environmental stress.
Second, their newspapers are recycled into goods that reduce energy usage and associated costs.
Third, paying non-profits for their newspapers enables them to fund their worthwhile projects within a context of environmental stewardship and provide opportunities for communities to unite for a common goal.
Applegate operates 7 nation wide recycling facilities, which turn newspapers into:
Insulation – Applegate Cellulose Insulation can reduce the energy costs of the average home by up to 40% over traditional insulations, helping lessen Americas' dependence on foreign oil. Fiberglass has up to 10 times more embodied energy than cellulose insulation and foam products up to 64 times. Cellulose generates about one-fifth the carbon dioxide as fiberglass to produce and Applegate Cellulose Insulation contains 85% or more recycled content.
Mulch – Applegate Premium Hydro-seeding Mulches promotes quick seed germination and reduces the impact of soil erosion. Reducing soil erosion helps streams, rivers and even road traffic to flow freely by reducing the amount of sedimentation and other contaminates which would otherwise wash into them.
In 2007 about 3,000,000 tons of newspapers went to U.S. landfills. This paper could have been used to produce an additional 200,000,000 bags of energy saving cellulose insulation and each ton of recycled paper saves 17 trees and 3.06 cubic yards of landfill space. There is enough paper going to landfills to produce enough cellulose insulation to replace nearly all other types of insulation. Whether you have a newspaper recycling program in place or not, Applegate can help you develop a program that will benefit your community, the environment and America.
Established in 1978, Aaron and his son Terry Applegate began recycling newspapers into energy saving cellulose insulation out of a small facility in Okemos, Michigan. Today, Applegate headquartered in Webberville Michigan, is the largest privately owned cellulose insulation producer in the world, and supplies a variety of insulation and hydro-seeding products throughout the United States. Applegate currently operates facilities in Michigan, Wisconsin, Pennsylvania, Kentucky, Georgia, Louisiana, and Colorado. For additional information regarding paper-drives fundraisers or Applegate Cellulose Insulation please visit http://www.paper-drive.com. For information on Applegate Hydro-seeding mulches visit: http://www.applegatemulch.com. For information on Applegate's other product please visit, http://www.applegatefoam.com for information on pre-expanded foam insulation, http://www.mrinsulate.net to learn about the newest energy saving hybrid made from cotton denim and visit http://www.mastasorb.com for information on high-recycled content sorbents.
For editorial interviews, additional information, testimonials, photographs, and industry specs please contact:
Dick Dundore, 800-627-7536 email< ask(dot)us(at)applegateinsulation(dot)com
###