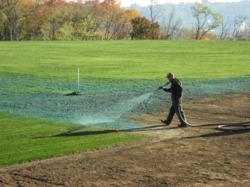 Applegate has expanded its ability to assist, train and professionally develop hydro-seeders desiring to grow and prosper.
Webberville, MI (PRWEB) March 23, 2012
As growing numbers of hydro-seeders around the world are discovering the advantages of Applegate Mulch, Applegate's customer support system has become stretched. Consequently, with a promotion and a recent personnel expansion Applegate has expanded its ability to assist, train and professionally develop hydro-seeders desiring to grow and prosper. With the addition of Billy Carter as Southeast Territory Representative and the promotion of Pete Simmons as International Representative, Applegate has significantly enhanced its ability to assist customers and respond to their needs.
Pete Simmons is a graduate of Michigan State University's Turfgrass Management program and has been a fixture in the hydroseeding and erosion control industry for over 21 years. His experience allows him to provide expert advise on hydroseeding equipment operation and hydroseeding material selection for the diverse needs in the American and international hydroseeding communities.
Billy Carter started in the Industry in 1986 with Hughes Supply where he sold utility supplies as well as public works and road building contractors. In 2001 he started Carters Erosion & Pipe Supply where he gained extensive experience in specifying and servicing the needs of the erosion control industry.
According to Terry Applegate, CEO of Applegate Mulch, "We have positioned ourselves as one of the leading players in the industry and expect continued and accelerated growth both domestically and internationally for premium hydroseeding and erosion control products. Pete Simmons' expanded international duties are critical to meeting the needs of Applegate's growing worldwide customer base, while Billy Carter joins Applegate as an additional customer support and sales specialist in the American Southeast. Billy's expansion of customer training and education specifically for the Southeast climate will help contractors get the most performance out of their resources."
Starting in one small facility in Okemos, Michigan in 1978, Applegate today boasts the largest cellulose mulch producing capability in the world, drawing from seven manufacturing facilities across the United States. These seven facilities can ship products cost effectively both domestically and internationally, while ensuring that backup facilities and flexible delivery options are available for Applegate's complete line of wood and paper hydroseeding mulches and ancillary products. Visit http://www.applegatemulch.com for more information Applegate.
###
For editorial interviews, additional information, testimonials, photographs, and industry specs please contact:
Pete Simmons, 800-627-7536 email< ask(dot)us(at)applegatemulch(dot)com