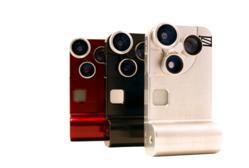 Huntington Beach, CA (PRWEB) August 31, 2012
iZZi Gadgets announced today that the revolutionary iZZi Orbit and iZZi Solo lens and case accessories are now available for Apple Inc.'s iPhone 4 and 4s for the first time. iZZi Gadgets also announced iZZi Orbit and Solo models for iPhone 5, which will be available shortly after the iPhone 5 release later this year.
The iZZi Orbit and iZZi Solo can be pre-ordered now through Kickstarter and will be available for purchase directly through iZZi Gadgets online store starting in mid-October.
iZZi Orbit- Versatility Defined
The Orbit is the new standard for premium protective case and lens solutions for the iPhone 4/4s and iPhone 5. The Orbit has been meticulously engineered with significant innovations to phone protection and mobile photography. In short, the iZZi Orbit takes the iPhone's built in camera to the next level and is the only patented case on the market featuring Peripheral Motion Lock Technology, an easy-to-use lens selector, and, durable Dual Layer Protection (DLP) for the device.
The Orbit is available in red, black, and silver, and like all iZZi Gadgets products, includes a protective sleeve, wrist lanyard, microfiber cleaning cloth, and accessory mates.
Fabricated from aircraft grade aluminum, the iZZi Orbit provides a lightweight yet durable outer layer which surrounds a form fitting inner hybrid silicone sleeve. The sleeve also functions as a stand alone protective case giving the user customized appearance and protection options. The iPhone fits snugly into the back of the iZZi Orbit providing Dual Layer Protection as well as unobstructed access to all phone features, ports, and buttons. Using Peripheral Motion Lock Technology (PMLT), the iZZi Orbit gives the user instant access to three high quality optical lenses in a convenient all-in-one package:

180° fisheye
67x wide-angle
2x telephoto
Simply rotate the Orbit to select the lens and you're ready to shoot. The iZZi Orbit also features a Sure Hand Stabilizing Grip (SHSG), which assist users in reducing hand shake while shooting video, three precision tripod mounts for professional style shooting, and prefabricated slots for accessories such as a neck or wrist lanyard for safe and secure transportation of the phone.
The iZZi Orbit's futuristic design combines next level iPhone photography with phone protection in one stylish accessory.
iZZi Solo- Innovative Design
The iZZi Solo boasts the same features as the Orbit but without the Peripheral Motion Lock Technology. The Solo comes standard with a premium 180° fisheye lens and rugged Dual Layer Protection for the iPhone 4/4s and iPhone 5. iZZi Solo has been meticulously engineered to bring mobile photography on the iPhone 4/4s and iPhone 5 to the next level and is the perfect solution for the user that only wants to purchase the lens(es) they use most. Wide Angle/Macro lens and Telephoto lens accessories available. Sold separately.
Press quality photos of all iZZi products can be accessed at izzigadgets.com.
Apple, iPhone 4/4s, and iPhone 5 are registered trademarks of Apple Inc. in the U.S. and other countries.
iZZi Orbit and Solo for iPhone 5 available for pre-order now here. *iZZi Orbit for iPhone 5 delivers 6-8 weeks after iPhone 5 release.*
About iZZi Gadgets
Izzi Gadgets, Inc. is a premium mobile accessory manufacturer based out of California. We produce state of the art camera/video & casing accessories for mobile phones and tablets. iZZi Gadgets is committed to environmental stewardship; all of its products and packaging are designed with an effort to reduce the impact on our planet.
Press Contact:
David Przygoda
david(at)izzigadgets(dot)com
Direct: 240.475.2547
Learn more here.