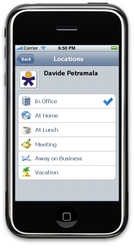 With the release of our newest Mobile UC Client software for Apple's iPhone, we provide enterprises the opportunity to offer full enterprise communications to iPhone users
Richmond Hill, Ontario, Canada (PRWEB) April 15, 2009
Esna Technologies Inc. (Esnatech), a market leader in enterprise unified communications, has launched a version of their market leading mobile unified communication software for the Apple iPhone and iPod touch devices. The Mobile UC software, Mobile UC Client delivers fixed to mobile convergence for a wide range of wireless devices with enterprise PBX systems such as Cisco, Avaya, Mitel, Nortel, Iwatsu, AASTRA, 3COM, Asterisk, etc.) . It provides a complete communications and& collaboration solution for mobile users,; integrating presence, messaging, mobility and computer telephony to users over their mobile devices. The integration of unified communications onto these wireless devices will dramatically increase the ability of mobile users to connect to their office and be able to communicate as if they were at their desk. Esnatech has released a version specifically for iPhone users so they can link their devices to their office telephone system and leverage the iPhone as their office communication device.
"With the release of our newest Mobile UC Client software for Apple's iPhone, we provide enterprises the opportunity to offer full enterprise communications to iPhone users," said Davide Petramala, Vice President Business Development at esnatech. "Integrated with the Esnatech UC server platform, Telephony Office-Linx, iPhone users can manage all their office communications such as find me/follow me, presence, and instant messaging directly from their device. such as find me follow me, presence and instant messaging. This once again demonstrates eEsnatech's market leadership in interoperability as we extend our UC services to any telephone system, any business application, and now to any mobile device including Apple's iPhone and iPod touch devices."
With the new Mobile UC Client software, users of Esnatech's Unified Communications platform would have access to the following features directly from their Apple iPhone:
*Users can manage their office presence and integrate with enterprise presence solutions such as Microsoft® Live Communication Server
*Users can define their presence even when on their Apple iPhone to their colleagues in the office
*See and find the presence and availability of their colleagues in the office
*Initiate and or participate in enterprise instant messaging sessions
*View complete call history, including real-time view of inbound, outbound and missed calls to and from your their office telephone
*Manage live office calls directly from their Apple iPhone
The new mobile application loads on both the Apple iPhone and iPod touch and connects via IP to the Telephony Office-LinX platform that is connected to both the enterprise PBX and e-mail platform. Users will have the ability to view their work groups and see who is online and available. With access to real time status, they can then chose the best way to communicate with co-workers. This will dramatically improve the connectivity of the wireless users to their office environment and improve productivity by delivering anywhere, anytime access to critical resources.
The new Mobile UC Client software for the iPhone is available as a free download for a limited time from the Apple App Sstore that can be accessed directly from any user's devices or from itunes by simply searching for eEsna, or UC Client.
About Telephony Office-LinX:
The Esnatech Telephony Office-LinX platform is already tightly integrated with MS Exchange, IBM Lotus Domino, Novell GroupWise, Apple MAC OS, Apple iPhone, Research in Motion Blackberry, Nokia devices, and MS wWindows mMobile devices. The gateway server can be administered directly from an organization's Microsoft Management Console or through Terminal Services over the web. Users can be managed through Active Directory and Group Policy.
About Esnatech:
Founded in 1989, Esnatech's mission is to provide communication solutions that are simply the best way to communicate! Esnatech solutions empower organizations by giving them the flexibility to conduct business at any time, from anywhere, so they can manage the information they need, when they need it. Esnatech markets and distributes their products through OEM and VAR partners in 28 countries worldwide. http://www.esnatech.com
Note to editors: If you are interested in viewing additional information on Esnatech, please visit the Esnatech Web page at http://www.esnatech.com on Esnatech's product pages. Web links, telephone numbers and titles were correct at time of publication, but may since have changed. For additional assistance, journalists and analysts may contact Esnatech's Marketing department at Marketing @ esnatech.com. Microsoft Live Communication Server, Windows, Exchange, Office & Terminal Services are registered trademark of Microsoft Corporation, Apple iPhone , itouch, iPod are trademarks of Apple.
###