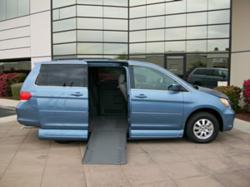 Cookeville, Tennessee (Vocus/PRWEB) April 19, 2011
Apple Mobility is now offering financing options to its customers in Tennessee and Kentucky. The company has stated its intentions to reach out to the community by working with customers who want handicap vans but cannot afford to buy one at full price. The company states that it is now willing to work with buyers through financing programs, grants, and other funding projects.
The company is offering financing plans for up to ten years on a single contract. Company management states that longer contracts "drastically lower monthly payments." The company is not only telling customers about financing options, as in bank loans, but are also financing wheelchair vehicles in-house.
Apple Mobility recently announced that they accept wheelchair van trades and other non-mobility vehicles trades. They are eliminating the middle man and allowing disabled motorists to come directly to the company office. The company offers this option so that their customers "don't have to hassle with other agencies."
The company sells wheelchair ready vans as well as conversion handicap vans with pre-installed equipment. Apple Mobility also sells wheelchair lifts and scooters, which have been provided by Vantage Mobility International and Viewpoint Mobility, two brand name manufacturers. Their primary market is within Tennessee and Kentucky, including major cities like Bowling Green, Chattanooga, Knoxville, Murfreesboro and Nashville.
The Apple company was founded by a man named Apple—Ted Apple who continues to run the company with relative Jeff Apple. Some of the company's recent specials have included $2,500 cash back on a 2010 Honda Odyssey converted wheelchair minivan. Apple Mobility is certainly reaching out to the southeastern part of the U.S. and making the name Apple even more appealing.
For more information on Apple Mobility vans, visit the official website at http://www.AppleMobility.com/.
About Apple Mobility: Apple Mobility was founded in 1984 and continues to be a family-run company. The company is a leader in the medical supply and mobility equipment industry and frequently works with local disability organizations. The main office is located in Cookeville, Tennessee. Some of their specialties include custom fit power wheelchairs, ambulatory aids and stair lifts.
# # #