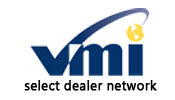 (PRWEB) December 19, 2011
Apple Mobility has released that they've aligned with the VMI SDN (Select Dealer Network), to take advantage of the powerful network built by VMI through Mobility Sales.com.
The Select Dealer Network is an innovative initiative designed to help VMI dealerships blend their resources and create a leading website whereby customers can reach each dealership in the network. The domain chosen for this is MobilitySales.com, a site with a proven record and reputation in the mobility industry.
Through MobilitySales.com, Apple Mobility will obtain a specified marketing territory for marketing wheelchair vans and mobility products. This allows more effective spending of Internet marketing funds, as well as allowing dealerships to get their message before a new audience.
In addition to better marketing power and a significantly increased internet presence, Apple Mobility gets full education in managing Web buyer leads, as well as how to track leads through the efficient distribution system.
The Select Dealer Network has been extremely effective in a short time-- started in 2008, the SDN has assisted to bring in a considerably higher number of purchasing consumers than what any participating dealership experienced prior to its development.
The SDN allows taking part mobility dealers to build shared insight into business issues, and enhance relationships within the industry. Dealerships are also able to enjoy a solid voice within VMI (Vantage Mobility International), and open, candid dialogue within a closed communication loop.
Apple Mobility is a family owned mobility dealership which recognizes that client service is the foundation for a solid growth. They carry a vast line of accessibility products, handicap lifts, wheelchair ramps, and other mobility equipment to provide a total solution for all of your wheelchair accessible van conversion needs.
Apple Mobility is very delighted about being a member of the Select Dealer Network, and looks forward to a rich, mutually beneficial relationship with all associate dealers.
About Apple Mobility: Apple Mobility is a top mobility dealer in Tennessee and parts of Kentucky for the best new and used handicap vans and wheelchair accessible vehicles from the top mobility manufacturers in America. They proudly serve customers with a disability who are searching for mobility vehicle products in Tennessee and Kentucky.
###