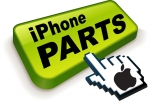 Best source for all Apple products and services including iPhone, iPod Touch and iPad
California (PRWEB) January 23, 2012
Cellphone-Repair-Shop.com announces the expansion of their product line which now offers a full selection of Apple products and services. Through the site, consumers are able to order the Apple repair parts they need, retrieve helpful information for do-it-yourself Apple repair and fix their own Apple product. Better yet is the option to purchase a repair service for their out of warranty Apple product and send their unit in, to be professionally repaired and receive a warranty on the work done.
Apple iPhones, iPods and iPads are constantly susceptible to becoming damaged, broken or simply to stop working. Many people find that they utilize their Apple products daily for work, personal use or both. The more the device is used, the more opportunity there is for something to go wrong or accidental breakage. When this happens, Cellphone Repair Shop is the only trusted source which offers a complete range of Apple products and services.
Many consumers are taking the do-it-yourself approach which allows them to save money on labor costs. For these consumers, Cellphone-Repair-Shop.com offers a complete line of Apple repair parts including the newest iPhone 4 and iPhone 4S parts, iPod Touch 4th generation parts and even the newest iPad 2 parts. All cellphone parts sold on the site are guaranteed to be of the highest quality and are quality tested. For more information on iPhone repair parts or any other Apple replacement part, visit Cellphone-Repair-Shop.com
For the non tech-savvy consumers the company offers Apple repair services which include anything from a cracked glass screen on iPads and iPod Touch all the way to broken charge ports and iPhone water damage repair. Finding the repair service that is needed is quick and easy due to the detailed explanation of each repair service, provided by the company. There is even an "other" Apple repair service, for all Apple repair services that do not fall under a specific section under each of the devices. So if you are not sure what iPhone repair service you need, you can simply choose this one.
To round out the companies Apple products and services, Apple iPhone unlocking is also available for older iPhones such as the iPhone 3G all the way to the newest iPhone 4. As new unlocking solutions are released for the newer iPhone 4S, Cellphone Repair Shop will add these services so that consumers have the option to do what they wish with their Apple iPhones and move around to different cellphone service providers if they so wish. Cellphone Repair Shop can even jail-break your iPhone, iPod Touch or iPad so that you have the freedom to add Apps which have not yet been approved for the Apple App Store.
About The Company:
Cellphone Repair Shop is the largest national cellphone repair website in the United States, managed and fulfilled by OmniCom Cellular Inc. The company's national cellphone repair facility and parts distribution center is located in California and provides services locally, online and nationwide through the website. Cellphone Repair Shop carries a large inventory of replacement cell phone parts for most brands such as Blackberry, Garmin, HTC, Huawei, Kyocera, LG, Motorola, Nokia, Palm, Pantech, Samsung, Sharp, Sidekick and Sony, but they are especially popular for all their oem and high quality Apple repair parts and services.
Contact:
For more information on Apple products and services offered by Cellphone Repair Shop, locally in California and nationally through their state of the art website, please visit Cellphone-Repair-Shop.com or contact Cellphone Repair Shop at Toll Free (877) 288-4488
Facebook
###