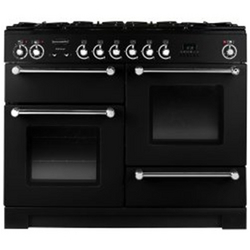 Notingham, UK (PRWeb UK) April 21, 2009
It is almost inconceivable now to imagine a world where the United States of America was only one year old, freshly independent from Great Britain. But in 1777 Warwickshire, this was the world of the enterprising John Flavel. In that year, he established a foundry specialising in vapour baths, inspired by the spas of Leamington, soon moving on to manufacturing cooking stoves.
In 1803, the enterprising manufacturer moved to Leamington Spa, where generations of the Flavel family were to become civic leaders in the town and the factory became a major local employer.
The company, later to be known as Rangemaster, was responsible for the manufacture of the historic Kitchener, pictured opposite.
Notable owners of this British built domestic institution of the 19th Century included Queen Victoria, Edward VII, the King of Italy and the Emperor of Germany.But how is this relevant in today's Britain, and how could it offer benefits for your home in the 21st Century?
As the need for efficiency grows, it's easy to lose sight of the style and elegance of the historic cookers and stoves of our past. But their imperial origins have laid a direct path to the Rangemaster Range Cookers we see today.
Rangemaster range cookers have inherited all the elegance and style of the cookers and stoves of bygone years, and combined them with the efficiency and functionality that is demanded of today's products.
About Rangemaster & Appliance City
Rangemaster is a subsidiary of the historic Aga Group, offering superb modern quality alongside a famous British Heritage. Appliance City is a registered Rangemaster Design Centre, qualified to advise on the full spectrum of usability and design options for Rangemaster range cookers.
Included in "Which?" Best Buy Range Cookers 2008, Rangemaster range cookers are perfect for all styles of kitchen, and complement both traditional and contemporary furniture. Go for a classic design if you have a country style or period kitchen, or choose something ultra-modern for a more hi-tech look.
Appliance City also actively promotes the use of Induction Hobs with all the Rangemaster range cookers, which use electro-magnets to create heat, rather than traditional element heating.
Gas-powered kitchens have long been favoured by many professional chefs, but when it comes to energy efficiency and protecting the environment, induction heating wins hands down.
And our Conclusion?
For reliability, British build quality and the heritage of a famous pedigree, together with top-drawer design centre support, you need look no further than Rangemaster and Appliance City to point you in the right direction to begin enjoying years of culinary bliss!
Appliance City has the full Rangemaster Range on display in the company's Nottingham based showrooms and one of their friendly sales advisers would be happy to welcome you for a tour that will take you through the all benefits of Rangemaster Range Cookers. It's easy to arrange and you can get in touch today.
You can reach Appliance City on 0808 1444357 or on the Web at: http://www.appliancecity.co.uk/rangemaster-range-cookers.asp
###