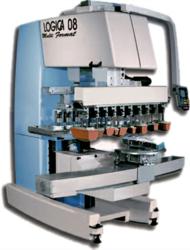 Lowell, MA (PRWEB) July 02, 2012
Years after Innovative Marketing Systems introduced the TOSH Logica 08 Multi-Format Pad Printing System to the U.S market; the advanced pad printer is still going strong. Still ranking as one of the top pad printing systems in the world the printer has been distributed to many industries ranging from home appliances to automotive. With the Logica's configuration capable of printing up to ten colors in addition to the capability of using both closed and open ink systems, it has allowed the printer to be used in very diverse industries.
After revolutionizing pad printing in Europe many have said that the Logica 08 has done the same in the USA. "The Logica 08 has exceeded our expectations and has satisfied our customers," says company President Trent Pepicelli. Using TOSH's programmable logic the printer is capable of printing up to 60 impressions in one cycle." This has proved invaluable for manufacturers that need a solution for appliance printing
Logica 08's accuracy has also impressed many with a +-.0004 inch. Another user friendly and well accepted feature on the printer includes the standard TOSH control set. These controls include an independent speed control, programmable delays and independent programmable pad stroke distances for colors and axis's.
"Many of our customers are interested in printing on curved panels at a high rate of speed," says Pepicelli. The Logica 08 has not disappointed in speed as it has decreased the time it takes to print a 2-D image onto a 3-D object dramatically. "When it comes to the Logica 08 our customers seem to be using them mainly for home appliance panel printing," says Pepicelli. Pad Printers has seen most of their client base focus on appliance panel printing, washing machine panel printing and printing on other plastic parts with the Logica 08, as has most of the pad printing industry. The Logica 08 is set to be the industry standard in the world of fast paced pad printers for years to come with its rapid set-up and change-over system that is made possible with TOSH's unique system design.
If you would like more information on the Logica 08 you can contact Pad Printers at 978.459.6533 or email them at info(at)padprinters(dot)com.