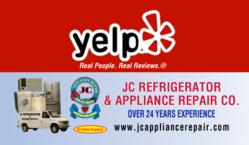 We also have an online promotion to encourage customer reviews.
San Mateo, CA (PRWEB) March 10, 2012
JC Appliance Repair, an appliance and refrigerator repair company that serves the San Mateo, Palo Alto and San Francisco areas, is currently offering several ways in which clients can receive online coupons.
First, a person may mention JC Appliance Repair's online coupon to receive 10-percent off labor for any appliance.
"We also have an online promotion to encourage customer reviews. Leave a review about us on any of these sites: Yelp, Google, Bing, Local.com, EZLocal.com and Citysearch, print it and you will receive 15-percent off on any appliance repair," Jose Castro of JC Appliance Repair said. "Help us spread the word."
JC Appliance Repair has built its reputation on providing fully trained and professional technicians, who pay attention to details. The repair company offers reliable appliance repair service, and is prompt and expeditious in getting the job done right the first time. All JC Appliance Repair work comes with a one-year warranty, and the company does not charge extra for weekend repairs.
"If anyone has had a bad experience with appliance repair companies in the past, had to wait all day for a repairman, and still not have had the problem resolved, that will never happen with JC Appliance Repair. We take care of all your appliance needs quickly, easily and within the timeframe promised. No more waiting with a four- to eight-hour appointment window," Castro said.
For more information about any of JC Appliance Repair's services, call 650-375-8185 or view the repair company on the web at http://www.jcappliancerepair.com.
About JC Appliance Repair
For more than 24 Years, JC Appliance Repair has provided expert appliance repair services throughout the San Francisco Bay Area, including San Mateo and Palo Alto. The repair company specializes in providing exceptional appliance repair services, such as commercial appliance repair, refrigerator repair and appliance repair for nearly all household appliances from every major brand name. JC Appliance Repair's team of trained and certified appliance-repair experts specializes in retrofitting old appliance systems, commercial compressor replacements, construction, service, repair, and maintenance of walk-in freezers and coolers.