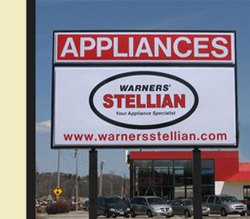 While certainly the economy isn't where we'd like it to be, we feel very fortunate to have the opportunity to expand, and I believe that our new Rochester location is a testament to the fact that Warners' Stellian will remain a fixture in Minnesota and the Midwest for years to come
St. Paul, MN (PRWEB) February 27, 2009
Saint Paul-based home and kitchen appliance retailer Warners' Stellian has opened their seventh store location and first outside of the Twin Cities market in Rochester, Minnesota. Warners' Stellian offers a selection of over 40 major appliance brands including: Electrolux, Bosch, Frigidaire, Miele, and Sub-Zero, as well as a complete in-house delivery, installation, and service staff.
"We couldn't be more thrilled about the move of our family business into the Rochester area," said Jeff Warner, Director of Marketing for Warners' Stellian. "Not only are we excited to make our first venture out of the Twin Cities marketplace, but we're really looking forward bringing the experience of Warners' Stellian service to the Rochester community."
"While certainly the economy isn't where we'd like it to be, we feel very fortunate to have the opportunity to expand, and I believe that our new Rochester location is a testament to the fact that Warners' Stellian will remain a fixture in Minnesota and the Midwest for years to come," said director of sales, Carla Warner.
The new Warners' Stellian store in Rochester, MN is located south of 12th St NW (US Highway 14) in the Apache Mall. Above and beyond appliance retailing, Warners' Stellian has worked extensively with numerous kitchen designers and architects to construct inspiring displays and vignettes for remodelers and homebuilders. Warners' Stellian also offers a fully trained in-house staff capable of delivery, installation, and appliance repair.
For further information and media inquiries about Warners' Stellian and its new Rochester store, or any questions regarding products, promotions, or special events, contact Mary Stage or visit http://www.warnersstellian.com.
About Warners' Stellian
Warners' Stellian is a major home and kitchen appliance retailer based in St. Paul, MN, with six stores in the Twin Cities Metro Area, including St. Paul, Edina, Apple Valley, Maple Grove, Woodbury, and an Outlet Center in Minneapolis. Its newest and seventh location is in Rochester, MN. The company carries a wide selection of home and kitchen appliances, from entry-level to "dream kitchens" and prides itself on providing a high level of personalized service to its customers. Warners' Stellian also offers special discount programs for Builders, Remodelers and Designers.
# # #