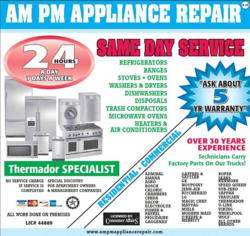 Los Angeles, CA (PRWEB) May 14, 2012
It can often be easy to overlook some of the amazing devices everyone uses at home every day. When these appliances do break down, not only is the entire household going to come to a grinding halt, it may also mean expensive appliance services and repairs for those that are not sure where to look. This is why one trusted Los Angeles appliance repair company, AM PM, is now offering affordable prices on all of their services. Visit AMPMApplianceRepair.com to learn about their rates.
The moment that these devices do begin to shows signs of a problem, owners are going to need a Amana, KitchenAid, or Sub Zero appliance repair specialist that is going to be able to carry out repairs and replacements as quickly and affordably as possible. This is especially true for owners of high end appliances that may be facing some dramatic prices from certain companies.
As a local Los Angeles appliance service and repair company that has been serving Southern California for nearly 20 years, AM PM Appliance Repair has assisted countless homes when their devices do begin to break down. They maintain a fleet of service vehicles that come stocked with factory parts, meaning that many owners are going to have their devices working the same day that they make a call.
In addition to factory parts and a staff of Haier, LG, and Viking appliance repair specialists that are on call 24 hours a day, AM PM also continues to offer a 5 year warranty on all labor so that customers are going to rest assured that they are getting quality service at great prices.
About AM PM Appliance Repair Los Angeles
AM PM has remained one of the most trusted appliance service and repair companies in Southern California due to a devotion to every single one of their customers. Their Panasonic, Bosch, Asko, and Thermador appliance repair specialists have undergone extensive training so that customers can get their house back in working order as quickly and affordably as possible.
Contact AM PM Los Angeles Appliance Repair
You can visit http://www.ampmappliancerepair.com or call (800) 343-6011 to learn more about their services and their consultation and repair rates.