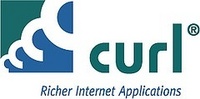 The Macintosh's expansion within the enterprise coupled with more businesses realizing the true benefits of Rich Internet Applications has created the perfect storm
CAMBRIDGE, Mass. (PRWEB) June 3, 2008
With the rapidly increasing penetration of Macintosh in the enterprise, Curl's support allows those companies to develop and deploy RIA's across multiple platforms. The Mac RTE supports the full range of features that are supported by the Curl Windows and Linux RTE products. This includes:
Full multimedia support – Includes 2D and 3D graphics libraries, scripting of event-based interactions, support for dynamic animations and audio data. High security – Offers flexible and reliable privilege-based security features. Unmatched connectivity – Supports all standard networking protocols and server-side architectures and protocols, including HTTP, HTTPS, XML, cookies, TCP/IP, SOAP, Unicode, PHP, J2EE and .Net. Just-in-time compiler – Compiles Curl content language applications into native code that executes with the full performance of the client machine. Declarative and elastic graphical layouts – Layouts can be described declaratively, as in HTML. Layouts also adapt elastically to the size of the window in which they are displayed, so users can size browser windows as they prefer. Integrated controls, dialogs and layout objects – Provides all the capabilities of HTML controls and HTML forms. Fully internationalized GUI system – Includes support for text entry and display using Asian languages such as Chinese, Japanese and Korean. "The Macintosh's expansion within the enterprise coupled with more businesses realizing the true benefits of Rich Internet Applications has created the perfect storm," said Bert Halstead, vice president and chief architect, Curl. "As a result, we have experienced in up-tick in demand for deploying Curl applications on the Macintosh. We have responded by bringing the full enterprise-class features of our other Curl RTE products to the Macintosh community, allowing enterprises the flexibility for end users of their Curl-developed applications to deploy on whatever system they choose."
As with the Windows and Linux RTE products, the Curl RTE for Mac includes a browser plugin so that any user who installs it can run applications from the Web simply by visiting the URL of the application to be executed. Where conventional Web applications render graphics in software, Curl applications enable PCs and now Macs to fully leverage graphics cards, sound cards and other hardware and drivers, delivering the robust performance typically associated only with client-server applications.
The Curl RTE can run on Power PC and Intel Macintoshes with operating systems of OS 10.3 and later, as well as execute applications developed for the current release of the Curl RIA platform, Version 6.0.
Multimedia: Curltech flickr page, Curltech photobucket page
Technorati Tags: Curl, RIA, Rich Internet Application, Enterprise 2.0, Software, Programming, Development
Suggested Links: Digg, Curl, Inc.'s Del.icio.us page, Post to Slashdot, Download Curl RTE for Mac
About Curl, Inc.
Curl provides a Rich Internet Application platform for building and deploying Web-based applications that demand complex, highly interactive interfaces previously only possible as client-server applications. Using Curl, developers can implement a new class of complex, business-critical, Web-based applications that cannot easily be developed with Ajax or other smart client technologies. Curl allows corporations with legacy client-server applications to move to Web-based delivery, increasing reach and reducing cost. Founded in 1998, Curl is headquartered in Cambridge, Massachusetts and is a wholly owned subsidiary of Sumisho Computer Systems. Curl has over 300 customers and 40 partners world-wide. For more information visit http://www.curl.com.