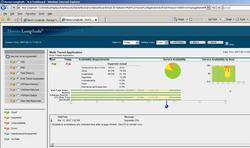 Heroix has a reputation for superior customer service, and this validates our focus on customer care
Braintree, MA (PRWEB) April 23, 2009
Heroix, a leading provider of application performance and network monitoring software, today announced a record 95% Q1 2009 customer retention rate for its Longitude agentless performance monitoring software, up from 90% in Q1 of last year. Offering an integrated approach to monitoring IT performance and Service Level Agreements, Longitude helps IT organizations improve service levels and enhance business performance through reporting, alerting, automated correction, and SLA monitoring for applications, servers, IT infrastructure, networks, and SNMP devices.
"Heroix has a reputation for superior customer service, and this validates our focus on customer care," said Heroix President Rick Lane. "IT organizations are beginning to question support services that are increasingly outsourced or structured into rigid tiers. At Heroix, all of our support services are provided by our own experienced technical engineers, who get to know our customers and understand their business situation as well as their technical issues. Customers can call our support personnel directly, without being routed through a phone system or tiered triage system. We pride ourselves in providing our customers the highest possible level of service and a continuing return on their investment."
That commitment is recognized by customers like Ricky King, a Manager in the Information Systems Department responsible for monitoring and managing Windows Servers for the University of Alaska in Fairbanks. "It's amazing how easy it is to work with the Longitude support staff despite the fact that we are in Alaska and there is a four-hour time difference between our offices and Heroix in Massachusetts. They accommodate our schedule to make sure that the product is running smoothly. That says a lot about how much they value their customers and how much faith they put in what Longitude can do."
In addition to its outstanding customer retention in Q1, Longitude continued to make inroads in the application monitoring software marketplace with customer acquisitions in the technology, transportation and industrial sectors. "Longitude's lower acquisition costs, easier deployment, and superior ROI have increasingly become competitive advantages as IT organizations tighten their belts," said Mr. Lane. "Companies know they can improve the bottom line with application performance monitoring and SLA reporting, but they are scrutinizing costs more carefully."
Longitude has been cited by numerous IT reviewers and publications for its technical excellence and ease of use. Past honors include "Best of the Tests" by Network World Magazine, and nods as a finalist for awards from Windows IT Pro Magazine and Redmond Magazine. Redmond reviewer Rick Butler judged Longitude's installation to be "almost obscenely easy ... With many utilities, you'll have to spend time installing the tool and then rolling out the agents to manage your target population. With Longitude, you're done in about 10 minutes."
Pricing and Availability.
Longitude V6.1 is available now, and Heroix offers a 14-day free trial of Longitude. Please visit the Heroix web site or call 800-229-6500 or 781-848-1701 for Longitude pricing. Heroix also provides monitoring tips from life in the IT trenches on its Heroix Longitude IT blog.
About Heroix:
Heroix delivers award-winning application performance and network monitoring software products that help organizations optimize the availability and performance of applications, databases, systems, and IT infrastructure running across multiple platforms. Today, with a presence in over 40 countries, Heroix has delivered performance management solutions to more than 1,000 organizations worldwide, including Arrowsight, Fallon Clinic, Kaiser Permanente, Honeywell, Tembec, Motorola, Inc., and Young Broadcasting.
###